Aruba Central

Monitor and manage your wired, wireless, and branch gateways in the cloud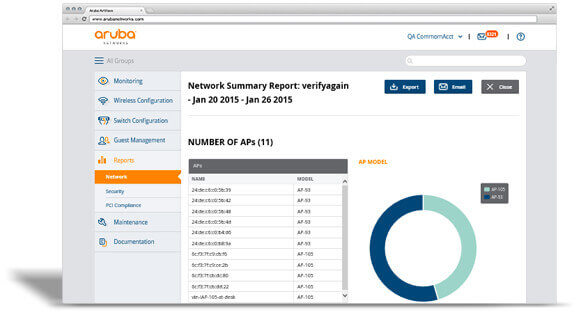 Aruba Networks Products
Aruba Central Cloud Services
Aruba Central Device Management Subscription for 1 Year
#JY925AAE
Our Price: $100.00
Aruba Central Device Management Subscription for 3 Years
#JY926AAE
Our Price: $200.00
Aruba Central Device Management Subscription for 5 Years
#JY927AAE
Our Price: $300.00
Click here to jump to more pricing!
Overview:
Aruba Central is a powerful cloud-based network management solution that offers built-in analytics for actionable network and business insights. With Central, managing Aruba Instant access points, switches, and branch controllers from the cloud ensures 24 by 7 access, visibility and control. Visitors, contractors and suppliers can access guest Wi-Fi through a customizable enterprise-grade portal. Whether managing one location or many, Central delivers the power of the cloud.
All the enterprise-grade management and monitoring you'll need
With Aruba Central, you can get your wired, wireless and branch networks up and running in minutes with Zero Touch Provisioning. The intuitive dashboards along with reporting, maintenance, and firmware management make monitoring and troubleshooting easy.
Use insights from the network to make smarter decisions
Tap into smart network, application and presence analytics, to improve user experience and boost revenue generation. The new Central dashboard is designed to help improve visitor engagement and make intelligent display, merchandising, and staffing decisions.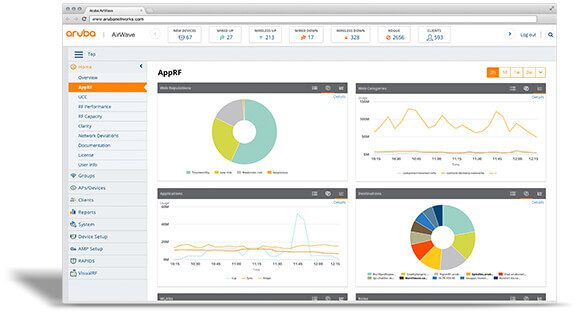 Network management on the go
Deploy Wi-Fi, wired and controller infrastructure components with the new Central mobile app. 
Secure and always on
Aruba Central cloud management features strong enterprise security, along with built-in scalability and redundancy.
Deliver as-a-service
With the Managed Services dashboard, IT organizations and Aruba partners can easily deliver network-as-a-service without additional cost or complexity.
Features:
Fast Network Set-up
Simplify network set-up and offload IT resources simply by shipping Aruba Instant APs, switches and branch controllers to remote sites, then unpack and power up. No technical experience needed. Once connected to the Internet, the configuration and firmware is automatically downloaded from Central. Your network is up and running in minutes. With the new Central mobile app for iOS, your network is always at your fingertips. You can monitor your entire network, receive notifications and provision an AP, switch or branch controller with easy barcode scanning. Network management has never been easier.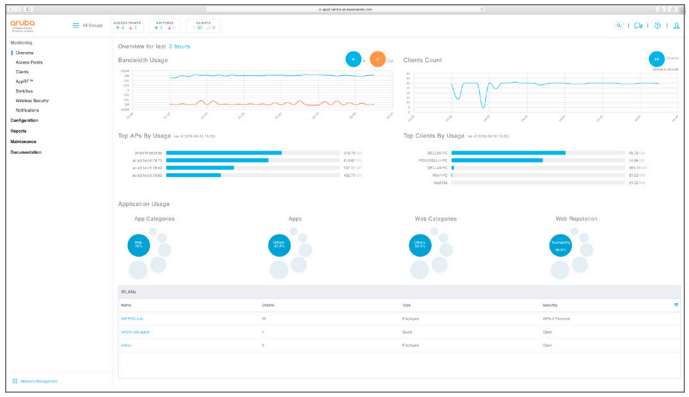 Maintenance and Fireware Management
Streamline and automate your network management while maintaining complete control.
Perform one-click firmware updates or schedule specific updates.
Manage device licenses and user accounts with different levels of access to Central.
Create groups and tag devices with labels to simplify firmware management and configuration.
Network Health Monitoring and Troubleshooting
Get an at-a-glance summary of your entire network health via an intuitive dashboard. Drill down for more detailed information with just a few simple clicks. The task-oriented design provides complete visibility into the operation of access points, switches, and clients – along with any alerts, location mapping and connections. Isolate problems and troubleshoot quickly with simple workflows, granular detail and search capabilities.
Check alerts by AP, switch name, MAC address, serial number, or any other attribute – and then click on the device for more detail.
Easily check connected clients, memory usage and firmware for fast troubleshooting.
Individually track a client's wireless connection, including signal strength, speed, association history, and device type.
Quickly identify rogue access points with built-in Wireless Intrusion Detection System (WIDS).
Launch the command line interface directly into an AP or switch if needed.
Application Analytics
Secure and optimize your network performance with application-level intelligence and web URL classification that's included with a built-in AppRF dashboard.
View and analyze traffic based on individual applications, application categories, web categories, and web reputation.
Leverage app-specific traffic insight to define and enforce granular access policies.
Presence Analytics
Improve customer engagement and make intelligent business decisions based on visibility into mobile user presence at venues and retail stores. Your Wi-Fi investment can now detect the presence of mobile devices (whether connected or not) and analyze traffic patterns while ensuring full privacy. This insight is highly valuable for retail businesses, venues and facilities departments at large organizations.
Retailers can measure how many customers they are attracting into their stores, how engaged they are and compare the data across different sites and times of the day to make informed merchandising, layout, marketing, and staffing decisions.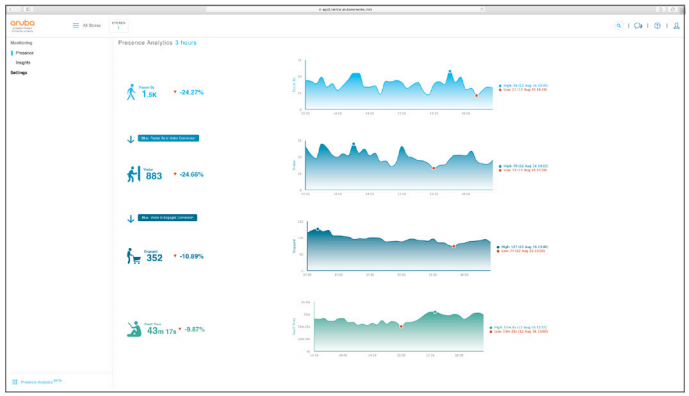 Guest Wi-Fi Access
Customize and simplify visitor access with fully integrated, secure and scalable guest Wi-Fi management included with your Aruba Central subscription. Choose from well-known authentication methods for guest access:
Allow anonymous or self-registered guest logins.
Enable guest sponsors – such as receptionists, event coordinators and other non-IT staff – to create temporary guest accounts.
Use social logins with Facebook, Google+, Twitter and LinkedIn.
Leverage Facebook Wi-Fi if you are a business with a Facebook business page.
Customize the mobile-friendly login pages to display your logo, custom welcome messages, terms and conditions, backgrounds, colors, and images, or simply choose from existing templates for a quick and easy start.
Reporting
Store data indefinitely to create reports containing historical data for internal and external compliance requirements.
View network, AppRF and security snapshots over a predefined period.
Schedule reports and receive automated email reports. Export them to PDF for low-effort monitoring.
Generate Payment Card Industry (PCI) reports that document proper security scanning was in place.
Secure and Always-On
Aruba Central is designed from the ground up for the cloud, ensuring the highest possible availability and uninterrupted service.
Web-scale architecture design delivers responsive performance, even when working with large amounts of data.
Built-in redundancy across all levels includes clustering and distributed across multiple data centers to ensure that you are always up and running.
HTTPS connection with strong mutual authentication using certificates ensures secure communication with Aruba products. Certificates are stored in Trusted Platform Module (TPM) chips on Aruba hardware for the highest level of protection.
Specifications:
Aruba Central has everything you need to maintain a fully operational enterprise network, including full technical support. Your Aruba Central subscription includes:
Phone and online support for any technical issues with Aruba Central, Aruba Instant APs, switches and branch controllers.
Access to the latest access point and switch firmware releases.
Pricing Notes:
Pricing and product availability subject to change without notice.
Aruba Networks Products
Aruba Central Cloud Services
Aruba Central Device Management Subscription for 1 Year
#JY925AAE
Our Price: $100.00
Aruba Central Device Management Subscription for 3 Years
#JY926AAE
Our Price: $200.00
Aruba Central Device Management Subscription for 5 Years
#JY927AAE
Our Price: $300.00
Services Subscription
Aruba Central Services Subscription for 1 Year
#JY928AAE
Our Price: $25.00
Aruba Central Services Subscription for 3 Years
#JY929AAE
Our Price: $50.00
Aruba Central Services Subscription for 5 Years
#JY930AAE
Our Price: $75.00