Aruba CX 4100i Switch Series

Ruggedized Ethernet access switch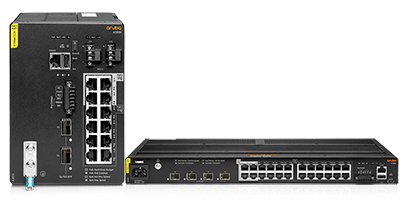 Models:
This ruggedized Ethernet access switch series is ready to extend your enterprise network to challenging, harsh spaces.
---
Ruggedized access switches
The CX 4100i is ideal for connecting IoT, access points, and user devices in challenging environments.
Ready for industrial spaces
Connectivity in harsh environments brings operational challenges. Fully manageable and versatile DIN Rail and 24 port 1U Ethernet models are ready for NEMA enclosures, warehouses, and outdoor facilities with support for extended temperature ranges from -40°C to 70°C.
Always on performance
Bring enterprise-class switching to non-carpeted spaces with the ruggedized CX 4100i series that provides built-in high-speed 10GbE uplinks and a combination of always on 30W and 60W PoE for demanding, power-hungry IoT devices.
Automated security for IoT and users
Combine policy management with real time automation to make segmentation and enforcement decisions in any location, consistent for IT, users and IoT.
Simple to manage and deploy
Based on a single switch OS from access to data center for a consistent operator experience, the CX 4100i can be quickly deployed and managed with choice of easy-to use Web GUI, CLI, Aruba NetEdit, or Aruba Central for single pane of glass management across your enterprise network, whether it's in the office or in the warehouse.
---
A ruggedized Ethernet solution that's simple, secure, and fast
These ruggedized access switches provide the performance, security, and simplicity you need, making them ideal for parking lots, warehouses, and industrial spaces.
Enterprise-class Ethernet Layer 2 connectivity
This high-performance Layer 2 switch with support for ACLs, robust QoS, static routing, and IPv6 is ready to power devices across your facilities.
Robust protection
Robust protection for sub-station applications and high tolerances for constant vibrations, shocks, and electronic immunity of railway applications.
Compact and powerful
Versatile deployment with compact 12 port DIN rail mount and 24 port 1U rack mount models, both with built-in high speed 1/10GbE uplinks.
High Power PoE
Combination of both Class 6 PoE (60W) and Class 4 PoE (30W) provides flexibility to power variety of IoT, access points, and user devices.
Extended temperatures
Bring wired network beyond the carpeted spaces with operational temperatures from -40°C to 70°C.
Management flexibility
The fully programmable CX 4100i series supports a choice of management, including Aruba Central (available soon), CLI, switch Web GUI, Aruba NetEdit, and programmability with AOS-CX operating system and REST APIs.
Download the Aruba CX 4100i Switch Series Datasheet (.PDF)