Aruba Unified Infrastructure

Prepare for the unpredictable
Deliver a tomorrow-ready network today
With increasing business demands and decreasing resources, deliver a do-more-with-less network that spans wired, wireless, and WAN and provides much-needed visibility, automation, and security.
Prepare for the unpredictable with an agile network
Today's enterprises are weathering a storm of socioeconomic and geopolitical uncertainty, and now there are signs that the world may be headed into a recession. Despite the fears of a recession, IT priorities are shifting towards the adoption of cloud, AI and automation, and a unified infrastructure in order to mitigate technical concerns such as supporting hybrid work and improving IT efficiency.
Tight Budgets
Due to inflationary pressures and flat budgets, businesses are looking for ways to reduce operational costs while continuing to meet business objectives.
Skill Shortages
Staffing resources are constrained due the Great Resignation, widening skills gaps, and time-intensive manual processes.
Network Complexity
Legacy systems rely on multiple vendors and management consoles, while outdated infrastructure places additional demands on already limited resources.
Recession proof your network with Aruba
Aruba cloud-native centralized services platform offers improved efficiency, orchestration, and automation. Now enterprises can deliver a flexible network ready for tomorrow's challenges — while staying within today's budget and resource constraints.
Consolidate management and operations to a single cloud-native console to improve orchestration, drive up efficiency, and provide a consistent IT experience across wired, wireless, WAN, and data centers, thereby lowering the total cost of ownership.
Leverage AI-driven insights and automation across an integrated wired and wireless network to proactively surface and resolve issues and continuously fine-tune performance, without additional resources.
Standardize on an integrated wired and wireless portfolio with an intent-based configuration and policy engine so IT can easily define and deploy networks, without manual effort and delivered via flexible cloud, on-prem, and as-a-service consumption models.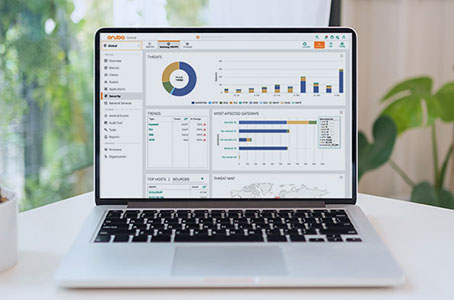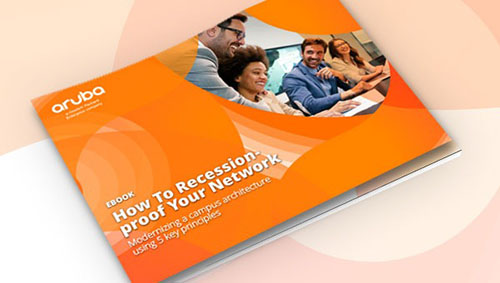 How to recession proof your network: Modernizing a campus architecture using 5 key principles
Today's enterprises are weathering a storm of uncertainty, and now there are signs of impending recession. Read the eBook for 5 steps to recession proof your campus architecture.