Aruba Virtual Mobility Controller

Deployed as a VM, the VMC runs on ArubaOS 8, providing a flexible deployment alternative to the mobility controller hardware appliance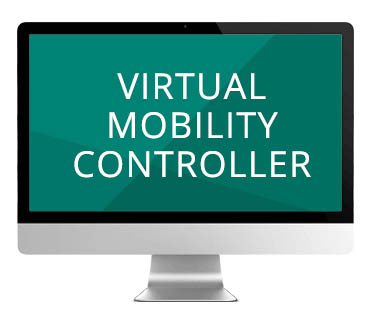 Aruba Networks Products
Aruba Virtual Mobility Controller
Aruba MC-VA-10 Virtual Mobility Controller License (US) with Support for up to 10 AP
#Q9B95AAE
List Price:
$1,395.00
Our Price: $1,002.87
Aruba MC-VA-50 Virtual Mobility Controller License (US) with Support for up to 50 AP
#JY902AAE
List Price:
$6,795.00
Our Price: $4,884.94
Aruba MC-VA-250 Virtual Mobility Controller License (US) with Support for up to 250 AP
#JY903AAE
List Price:
$12,495.00
Our Price: $8,982.67
Aruba MC-VA-1K Virtual Mobility Controller License (US) with Support for up to 1000 AP
Click here to jump to more pricing!
Overview:
Work environments are transforming to digital workplaces, with billions of mobile workers using their mobile devices to access applications designed to make them more productive. Mobility and IoT – along with these business critical applications – drive increasing demand on the network. At the same time, these mobile workers expect a consistent user experience from their mobile device and applications where ever they are.
To enable an always-on network with the desired performance for high density environments, enterprises must deliver a wireless network that accommodates these requirements and yet provides them with the efficiency and flexibility of a VM deployment to move at the speed of their business.
ArubaOS 8 provides new features and capabilities that include the introduction of the Virtual Mobility Controller (VMC). The VMC functions in a similar way to the 72xx and 7xxx Mobility Controllers by centralizing wireless network visibility and control. Deployed as a virtual machine (VM), this controller provides plenty of capacity and speed for BYOD and 802.11 ac devices for both campus or branch deployment.
The other innovation in ArubaOS 8 is the Aruba Mobility Master – the next generation of master controller that is needed to configure and manage your cluster of mobility controllers, whether virtualized or appliance-based. VMC can be deployed as standalone or managed by Mobility Master where it can support up to 100K users.
Organizations with virtualized initiatives can take advantage of the following benefits of the Virtual Mobility Controller:
Flexible deployment and ease of operation
Customers have the flexibility of deploying VMC as a VM benefiting from ease of operation and deployment to remote locations or the hardware appliance Mobility Controllers (72xx and 7xxx series). The VM form factor makes it easy to dynamically scale to support the needs of a rapidly growing enterprise, enabling a much more efficient use of resources by adding more CPU and storage resources. By moving to a VM-based deployment that has more memory and compute, more services can be managed on the network. VMC can be deployed on VMware ESXi or open source KVM hypervisor.
Cost effective solution
Customers who already have a VM environment can benefit from operational cost savings by deploying VMC, since it can reside with other VMs sharing the same existing virtualization infrastructure. For high availability, customers can use centralized licensing to install multiple VMs in a cluster without the need to purchase separate controllers.
Supports ArubaOS 8 features and capabilities
VMC runs on ArubaOS 8 and has all the innovations that are associated with this new operating system – such as an always-on network with Controller Clustering, optimized RF management with AirMatch, 3rd party integration with NBAPIs and AP multi-tenancy with MultiZone.
VMC also supports all Aruba's enterprise-critical capabilities like AppRF, Airgroup, advanced cryptography, IPv4 and IPv6 services, Adaptive Radio Management, ClientMatch, and RFProtect module and wireless intrusion protection. For networks with higher encryption needs, the Mobility Controller appliances scale up to 40Gbps with integrated network processors to accelerate cryptography and packet forwarding performance.
Pricing Notes:
Pricing and product availability subject to change without notice.
Aruba Networks Products
Aruba Virtual Mobility Controller
Aruba MC-VA-10 Virtual Mobility Controller License (US) with Support for up to 10 AP
#Q9B95AAE
List Price:
$1,395.00
Our Price: $1,002.87
Aruba MC-VA-50 Virtual Mobility Controller License (US) with Support for up to 50 AP
#JY902AAE
List Price:
$6,795.00
Our Price: $4,884.94
Aruba MC-VA-250 Virtual Mobility Controller License (US) with Support for up to 250 AP
#JY903AAE
List Price:
$12,495.00
Our Price: $8,982.67
Aruba MC-VA-1K Virtual Mobility Controller License (US) with Support for up to 1000 AP
Aruba LIC-AP Controller per AP Capacity License E-LTU
#JW472AAE
List Price:
$75.00
Our Price: $53.92
Aruba LIC-PEF Controller Policy Enforcement Firewall Per AP License E-LTU
#JW473AAE
List Price:
$75.00
Our Price: $53.92
Aruba LIC-RFP Controller RFProtect Per AP License E-LT
#JW474AAE
List Price:
$75.00
Our Price: $53.92
Aruba LIC-AW Aruba Airwave with RAPIDS and VisualRF 1 Device License E-LTU
#JW546AAE
List Price:
$200.00
Our Price: $143.78
Aruba LIC-ENT Enterprise (LIC-AP LIC-PEF LIC-RFP and LIC-AW) Licence Bundle E-LTU
#JW471AAE
List Price:
$425.00
Our Price: $305.54