Aruba AP-503 WI-FI 6 Indoor Access Points

Affordable Wi-Fi 6 APs – ideal for low-to-medium density enterprise environments.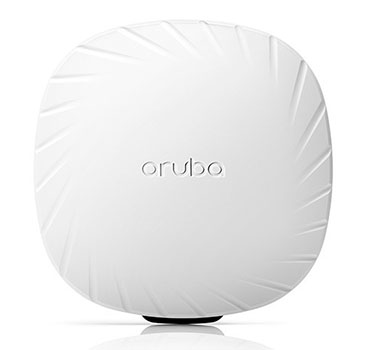 Aruba Networks Products
Aruba Wireless Access Points
Aruba Access Point-503 (US) Dual Radio 2x2:2 802.11ax Wi-Fi 6 Campus Access Point
Includes mount bracket
#R8M99A
List Price:
$595.00
Our Price: $427.75
Click here to jump to more pricing!
Overview:
The Aruba 503 Series Access Points (APs) provide costeffective, high-performance connectivity for any organization experiencing device growth due to increased mobility, the shift to cloud, or IoT. With a maximum real-world aggregate data rate of 1.49 Gbps (HE80/HE20), the 503 Series deliver the speed and reliability needed for medium-density venues and workplaces such as schools, midsize offices, and retailers. Each 503 Series AP provides connectivity for a maximum of 256 associated clients per radio (512 in total).
Meet Aruba's most cost-effective Wi-Fi 6 access point
Upgrade your wireless performance with affordable Wi-Fi 6 coverage to meet ever-growing demand.
Greater efficiency
Built on Wi-Fi 6 standards and Wi-Fi CERTIFIED®, 503 Series APs include support for OFDMA for higher throughput and Target Wake Time to extend the battery life of IoT devices.
Simple and secure access
Aruba 503 Series Indoor Access Points offer enhanced security with WPA3 and Enhanced Open for stronger encryption and guest access. The Trusted Platform Module secures credentials, keys, and boot code while the Policy Enforcement Firewall automatically applies policies based on user role, device type, applications, and location and dynamically segments traffic.
Cost effective, comprehensive coverage
Options include single or eco-friendly ten-packs for affordable indoor Wi-Fi coverage for low-to-medium density environments. USB plug-ins for IoT or for LTE modem support are also available.
Affordable Wi-Fi 6 coverage
With 1.49 Gbps maximum real-world speed and support for 802.11ax (Wi-Fi 6), the 503 Series delivers affordable yet comprehensive coverage.
1.49 Gbps maximum real-world speed
Delivers speed and reliability with HE80/HE20 channels for K-12 schools, branch offices, and retail stores.
Dynamic segmentation
Automatically enforces policies for users, devices, and applications across wired and wireless networks.
Wi-Fi optimization
Aruba ClientMatch uses AI to steer traffic to the best AP while Aruba AirMatch dynamically allocates RF resources to improve coverage and eliminate gaps.
Application assurance
Aruba Air Slice dynamically allocates and tunes radio resources to ensure application service levels and optimize the user experience.
Flexible deployment
The 503 Series APs can be deployed in campus, branch, and remote locations and with cloud-based or on-prem management.
Pricing Notes:
Pricing and product availability subject to change without notice.
Aruba Networks Products
Aruba Wireless Access Points
Aruba Access Point-503 (US) Dual Radio 2x2:2 802.11ax Wi-Fi 6 Campus Access Point
Includes mount bracket
#R8M99A
List Price:
$595.00
Our Price: $427.75
Power accessories
AP-POE-AFGE 1-Port GbE 802.3af 15.4W midspan injector
#R6P68A
List Price:
$118.00
Our Price: $85.31
AC power cord
Aruba AC Power Cord
#JW124A
List Price:
$7.00
Our Price: $5.04
Mounting kits
Instant On AP Ceiling Rail Mount Kit
#JW044A
List Price:
$28.00
Our Price: $20.24
Instant On AP Flat Surface Wall/Ceiling Basic Mount (White)
#JW047A
List Price:
$28.00
Our Price: $20.24
AP-220-MNT-W3 White Low Profile Box Style Secure AP Flat Surface Mount Kit
#JY705A
List Price:
$55.00
Our Price: $36.50
Flexible Ethernet extension cables
Aruba AP-CBL-EXT10 10-pack CAT6A Ethernet Extension Cables
#R8L34A
List Price:
$237.00
Our Price: $170.38
Console port adapters
Aruba AP-CBL-SERU Micro-USB TTL3.3V to USB2.0 AP Console Adapter Cable
#JY728A
List Price:
$32.00
Our Price: $23.00
Aruba AP-MOD-SERU Micro-USB TTL3.3V to RJ45 RS232 AP Console Adapter Module
#R6Q99A
List Price:
$92.00
Our Price: $66.14
BLE and Zigbee IOT dongle radio
Aruba AP-USB-ZB External USB based Dongle with Zigbee and BLE for AP
#R2X45A
List Price:
$241.00
Our Price: $173.26
Aruba AP-USB-ZB 10-pk External USB based Dongle with Zigbee and BLE for AP
#R2Y09A
List Price:
$1,171.00
Our Price: $841.83
Aruba AP-USB-ZB 50-pk External USB based Dongle with Zigbee and BLE for AP
#R2Y10A
List Price:
$5,852.00
Our Price: $4,207.00