Aruba AP-503 WI-FI 6 Indoor Access Points

Affordable Wi-Fi 6 APs – ideal for low-to-medium density enterprise environments.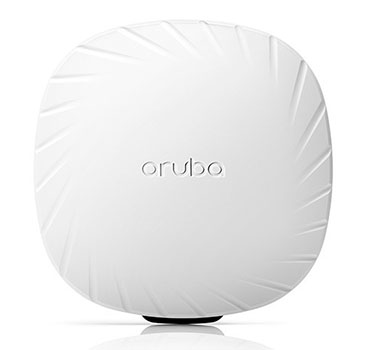 Aruba Networks Products
Aruba Wireless Access Points
Aruba Access Point-503 (US) Dual Radio 2x2:2 802.11ax Wi-Fi 6 Campus Access Point
Includes mount bracket
#R8M99A
Our Price: $595.00
Click here to jump to more pricing!
Overview:
The Aruba 503 Series Access Points (APs) provide costeffective, high-performance connectivity for any organization experiencing device growth due to increased mobility, the shift to cloud, or IoT. With a maximum real-world aggregate data rate of 1.49 Gbps (HE80/HE20), the 503 Series deliver the speed and reliability needed for medium-density venues and workplaces such as schools, midsize offices, and retailers. Each 503 Series AP provides connectivity for a maximum of 256 associated clients per radio (512 in total).
Meet Aruba's most cost-effective Wi-Fi 6 access point
Upgrade your wireless performance with affordable Wi-Fi 6 coverage to meet ever-growing demand.
Greater efficiency
Built on Wi-Fi 6 standards and Wi-Fi CERTIFIED®, 503 Series APs include support for OFDMA for higher throughput and Target Wake Time to extend the battery life of IoT devices.
Simple and secure access
Aruba 503 Series Indoor Access Points offer enhanced security with WPA3 and Enhanced Open for stronger encryption and guest access. The Trusted Platform Module secures credentials, keys, and boot code while the Policy Enforcement Firewall automatically applies policies based on user role, device type, applications, and location and dynamically segments traffic.
Cost effective, comprehensive coverage
Options include single or eco-friendly ten-packs for affordable indoor Wi-Fi coverage for low-to-medium density environments. USB plug-ins for IoT or for LTE modem support are also available.
Affordable Wi-Fi 6 coverage
With 1.49 Gbps maximum real-world speed and support for 802.11ax (Wi-Fi 6), the 503 Series delivers affordable yet comprehensive coverage.
1.49 Gbps maximum real-world speed
Delivers speed and reliability with HE80/HE20 channels for K-12 schools, branch offices, and retail stores.
Dynamic segmentation
Automatically enforces policies for users, devices, and applications across wired and wireless networks.
Wi-Fi optimization
Aruba ClientMatch uses AI to steer traffic to the best AP while Aruba AirMatch dynamically allocates RF resources to improve coverage and eliminate gaps.
Application assurance
Aruba Air Slice dynamically allocates and tunes radio resources to ensure application service levels and optimize the user experience.
Flexible deployment
The 503 Series APs can be deployed in campus, branch, and remote locations and with cloud-based or on-prem management.
Specifications:
Hardware variants
AP-503: Campus AP platform, integrated antennas
Wi-Fi radio specifications
AP type: Indoor, dual-radio, 2.4GHz and 5GHz (dual concurrent) 802.11ax 2x2 MIMO
2.4GHz radio: Two spatial stream Single User (SU) MIMO for up to 574Mbps wireless data rate with 2SS HE40 802.11ax client devices (287Mbps for HE20)
5GHz radio: Two spatial stream Single User (SU) MIMO for up to 1.2Gbps wireless data rate with 2SS HE80 802.11ax client devices
Up to 256 associated client devices per radio, and up to 16 BSSIDs per radio
Supported frequency bands (country-specific restrictions apply):

2.400 to 2.4835GHz ISM
5.150 to 5.250GHz U-NII-1
5.250 to 5.350GHz U-NII-2A
5.470 to 5.725GHz U-NII-2C
5.725 to 5.850GHz U-NII-3/ISM
5.850 to 5.895GHz U-NII-4

Available bands and channels: Dependent on configured regulatory domain (country)
Dynamic frequency selection (DFS) optimizes the use of available RF spectrum in the 5GHz band
Supported radio technologies:

802.11b: Direct-sequence spread-spectrum (DSSS)
802.11a/g/n/ac: Orthogonal frequency-division multiplexing (OFDM)
802.11ax: Orthogonal frequency-division multiple access (OFDMA) with up to 8 resource units

Supported modulation types:

802.11b: BPSK, QPSK, CCK
802.11a/g/n: BPSK, QPSK, 16-QAM, 64-QAM and 256-QAM (proprietary extension)
802.11ac: BPSK, QPSK, 16-QAM, 64-QAM, 256-QAM and 1024-QAM (proprietary extension)
802.11ax: BPSK, QPSK, 16-QAM, 64-QAM, 256-QAM and 1024-QAM

802.11n high-throughput (HT) support: HT20/40
802.11ac very high throughput (VHT) support: VHT20/40/80
802.11ax high efficiency (HE) support: HE20/40/80
Supported data rates (Mbps):

802.11b: 1, 2, 5.5, 11
802.11a/g: 6, 9, 12, 18, 24, 36, 48, 54
802.11n: 6.5 to 300 (MCS0 to MCS15, HT20 to HT40), 400 with 256-QAM (proprietary extension)
802.11ac: 6.5 to 867 (MCS0 to MCS9, NSS = 1 to 2, VHT20 to VHT80); 1,083 with 1024-QAM (MCS10 and MCS11, proprietary extension)
802.11ax (2.4GHz): 3.6 to 574 (MCS0 to MCS11, NSS = 1 to 2, HE20 to HE40)
802.11ax (5GHz): 3.6 to 1,201 (MCS0 to MCS11, NSS = 1 to 2, HE20 to HE80)

802.11n/ac packet aggregation: A-MPDU, A-MSDU
Transmit power: Configurable in increments of 0.5 dBm
Maximum (aggregate, conducted total) transmit power (limited by local regulatory requirements):

Per radio (2.4GHz / 5GHz): +21 dBm (18dBm per chain)
Note: conducted transmit power levels exclude antenna gain. For total (EIRP) transmit power, add antenna gain.

Advanced Cellular Coexistence (ACC) minimizes the impact of interference from cellular networks
Maximum ratio combining (MRC) for improved receiver performance
Cyclic delay/shift diversity (CDD/CSD) for improved downlink RF performance
Space-time block coding (STBC) for increased range and improved reception
Low-density parity check (LDPC) for high-efficiency error correction and increased throughput
Transmit beam-forming (TxBF) for increased signal reliability and range
802.11ax Target Wait Time (TWT) to support low-power client devices
Wi-Fi antennas
AP-503: Integrated downtilt omni-directional antennas for 2x2 MIMO with peak antenna gain of 1.7dBi in 2.4GHz and 4.8dBi in 5GHz. Built-in antennas are optimized for horizontal ceiling mounted orientation of the AP. The downtilt angle for maximum gain is roughly 30 degrees.

Combining the patterns of each of the antennas of the MIMO radios, the peak gain of the combined, average pattern is 1.5dBi in 2.4GHz and 3.9dBi in 5GHz.
Other interfaces and features
E0: Ethernet wired network port (RJ-45)

Auto-sensing link speed (10/100/1000BASE-T) and MDI/MDX
POE-PD: 48Vdc (nominal) 802.3af POE (class 3 or higher)
802.3az Energy Efficient Ethernet (EEE)

USB 2.0 host interface (Type A connector)

Capable of sourcing up to 100mA / 500mW to an attached device

Built-in Trusted Platform Module (TPM) for enhanced security and anti-counterfeiting
Visual indicators (two multi-color LEDs): for System and Radio status
Reset button: factory reset, LED mode control (normal/off)
Serial console interface (proprietary, micro-B USB physical jack)
Automatic thermal shutdown and recovery function
Power sources and power consumption
The AP supports Power over Ethernet (POE) on port E0
Power sources are sold separately
Maximum (worst-case) power consumption: 10.9W
Maximum (worst-case) power consumption in idle mode: 4.7W
Both numbers assume no power is drawn from the USB interface

Drawing 0.5W from the USB interface increases max AP power consumption by up to 0.7W
Mounting details
A generic mount bracket to attach the AP-503 to suspended ceiling rails ships with the AP. Alternate or spare brackets can be ordered separately.
Mechanical specifications
Dimensions/weight (AP-503; unit with mount bracket):

145mm (W) x 145mm (D) x 51mm (H)
270g

Dimensions/weight (AP-503; unit without mount bracket):

145mm (W) x 145mm (D) x 35mm (H)
255g

Dimensions/weight (AP-503; shipping):

196mm (W) x 183mm (D) x 67mm (H)
515g
Environmental specifications
Operating conditions

Temperature: 0C to +40C / +32F to +104F
Relative humidity: 5% to 95%
ETS 300 019 class 3.2 environments
AP is plenum rated for use in air-handling spaces

Storage conditions

Temperature: -25C to +55C / +13F to +131F
Relative humidity: 10% to 100%
ETS 300 019 class 1.2 environments

Transportation conditions

Temperature: -40C to +70C / -40F to +158F
Relative humidity: up to 95%
ETS 300 019 class 2.3 environments
Reliability
Mean Time Between Failure (MTBF): 930khrs (106yrs) at +25C operating temperature.
Regulatory compliance
FCC/ISED
CE Marked
RED Directive 2014/53/EU
EMC Directive 2014/30/EU
Low Voltage Directive 2014/35/EU
UL/IEC/EN 60950
IEC/EN 62368-1
Regulatory model numbers
AP-503 (all models): APIN0503
Certifications
Wi-Fi Alliance (WFA):

Wi-Fi CERTIFIED a, b, g, n, ac
Wi-Fi CERTIFIED 6
WPA, WPA2 and WPA3 – Enterprise with CNSA option, Personal (SAE), Enhanced Open (OWE)
WMM, WMM-PS, Wi-Fi Agile Multiband
Passpoint (release 2)

Ethernet Alliance (POE, PD device, class 3)
Minimum operating system software versions
ArubaOS and Aruba InstantOS 8.11.1.0, ArubaOS 10.5.0.0
Documentation:
Pricing Notes:
Pricing and product availability subject to change without notice.
Aruba Networks Products
Aruba Wireless Access Points
Aruba Access Point-503 (US) Dual Radio 2x2:2 802.11ax Wi-Fi 6 Campus Access Point
Includes mount bracket
#R8M99A
Our Price: $595.00
Power accessories
AP-POE-AFGE 1-Port GbE 802.3af 15.4W midspan injector
#R6P68A
Our Price: $118.00
AC power cord
Mounting kits
Instant On AP Ceiling Rail Mount Kit
HPE OfficeConnect AP-220-MNT-C2 2x Ceiling Grid Rail Adapter for Interlude and Silhouette Mt Kit
HPE OfficeConnect AP-220-MNT-W1 Flat Surface Wall/Ceiling Black AP Basic Flat Surface Mount Kit
HPE OfficeConnect AP-MNT-CM1 Industrial Grade Indoor Access Point Metal Suspended Ceiling Rail Mount Kit
Instant On AP Flat Surface Wall/Ceiling Basic Mount (White)
AP-220-MNT-W3 White Low Profile Box Style Secure AP Flat Surface Mount Kit
Instant On AP Low Profile Basic Mount Kit
Flexible Ethernet extension cables
Aruba AP-CBL-EXT10 10-pack CAT6A Ethernet Extension Cables
#R8L34A
Our Price: $237.00
Console port adapters
Aruba AP-CBL-SERU Micro-USB TTL3.3V to USB2.0 AP Console Adapter Cable
Aruba AP-MOD-SERU Micro-USB TTL3.3V to RJ45 RS232 AP Console Adapter Module
BLE and Zigbee IOT dongle radio
Aruba AP-USB-ZB External USB based Dongle with Zigbee and BLE for AP
#R2X45A
Our Price: $241.00
Aruba AP-USB-ZB 10-pk External USB based Dongle with Zigbee and BLE for AP
#R2Y09A
Our Price: $1,171.00
Aruba AP-USB-ZB 50-pk External USB based Dongle with Zigbee and BLE for AP
#R2Y10A
Our Price: $5,852.00