Aruba Hybrid Workplace

Simple management for complex networks
The world is your hybrid workplace
No matter how or where employees connect, Aruba ESP provides a seamless network experience—and single-pane-of-glass management for IT.
Products that support the Hybrid Workplace
Simple management for complex networks
Hybrid workplaces complicate corporate networks. After all, they keep highly distributed workforces connected, systems up and running, and data secure. Fortunately, a modern network lets network administrators work smarter so they don't need to work harder. Aruba makes it easy to:
Support remote workers with EdgeConnect Microbranch—set-up is automatic, and remote workers enjoy the same network experience as those in the office
Ensure appropriate network security everywhere your workers connect by providing a unified infrastructure that extends Zero Trust Security and SASE from the edge to the cloud
Enable high-bandwidth, low latency applications in dense environments as workers come back to the office
Use Aruba APs as IoT platforms with support for BLE and Zigbee connectivity, as well as EnOcean and proprietary IoT protocols, eliminating the need for a separate network.
Get end-to-end network visibility and management from a single pane of glass.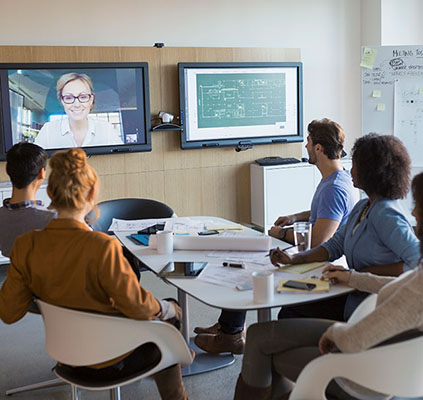 A modern, flexible workplace needs a modern, flexible network
Hybrid has become the way we work. This flexible approach fosters agility, which is critical to business success. A modern network built with Aruba ESP enables flexibility by expanding the network to remote workers, providing fast, reliable connectivity for high-bandwidth, low-latency applications, even in high-density environments, and provides a platform for the growing number of IoT devices in today's workplaces.
Now more than ever, the only constant is change. For businesses to survive, they must adapt. The network should serve the business needs, whatever they are. Not the other way around. Isn't it time for a modern, flexible network that constantly adapts to your changing business needs?
Aruba AIOps eliminates manual troubleshooting, reduces trouble tickets, increases network utilization, and provides precise data-driven insights and recommendations. While this is valuable in any organization, the exponential growth of home and remote offices make AIOps an essential tool in any hybrid workplace.

READ THE SOLUUTION OVERVIEW
Aruba EdgeConnect Microbranch bridges the digital gap between remote workers and in-office workers. Home and remote offices become your smallest branch offices. They're on the same network fabric, share the same network resources, benefit from the same security policies and frameworks, and are easily visible and managed, along with the rest of the network, from a single pane of glass.

LEARN ABOUT EDGECONNECT MICROBRANCH
Between increased use of higher bandwidth, lower latency applications like video and VOIP, and a growing number of IoT devices for everything from hot desk and hoteling applications to occupancy and environmental sensors, the return of employees to the office means more demands on the corporate Wi-Fi. Make sure your network can handle it all.

WHAT IS WI-FI 6 AND WHY DO YOU NEED IT?
Hybrid work models for today—and tomorrow—need to be flexible in a variety of ways: scalability, deployment, security, management, and adaptability to inevitable and more rapid technology advances. Build a network that adapts to your business needs, even as those needs change.