Wi-Fi 6E
Wi-Fi 6E enables access to the new 6 GHz band which translates into1200 MHz of clean spectrum in the US and much of the rest of the world and nearly 500 MHz of clean spectrum in the EU. This represents the single largest allocation of unlicensed spectrum in history and nearly triples the spectrum available for Wi-Fi. The "E" in Wi-Fi 6E stands for "Extended" since Wi-Fi 6E extends the capabilities of Wi-Fi 6 to the 6 GHz band for more capacity, wider channels, and less interference.
View the infographic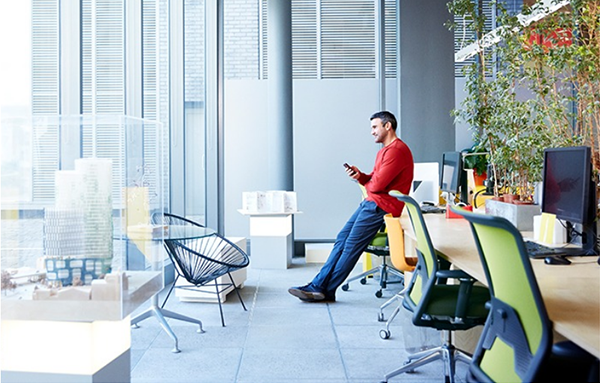 Wi-Fi 6E Explained
Wi-Fi 6E expands on the existing Wi-Fi 6 (802.11ax) standard and allows access to a new 6 GHz band. Wi-Fi 6E takes the efficiency features from Wi-Fi 6 like OFDMA, WPA3, and Target Wake Time and extends them to the 6 GHz band to provide more contiguous spectrum and less interference. With Wi-Fi 6E, enterprises can support new use cases that demand multi-gigabit speeds like high-definition video.
How does Wi-Fi 6E work?
Wi-Fi today uses two bands: 2.4GHz and 5GHz. Wi-Fi 6E utilizes a third band: 6GHz. Wi-Fi 6E extends the same Wi-Fi 6 capabilities into the 6 GHz band to allow greater efficiency, higher throughput, and increased security.
Why Wi-Fi 6E?
More capacity in the 6 GHz band, which solves connection and congestion issues.
Wider channels, up to 160 MHz, which are ideal for high-def video and virtual reality.
No interference from microwaves, etc. because only 6E-capable devices can use the band.
How do I choose a Wi-Fi 6E vendor?
Choose a vendor that demonstrates
A track record of proven innovation
Commitment to certification by industry standards (Wi-Fi Alliance)
A full portfolio to support indoor, outdoor, hazardous location (HazLoc), and remote workers
What is the Wi-Fi 6E regulatory status?
Globally, the United States, South Korea, Saudi Arabia, Brazil, Chile, and Guatemala have each opened up 1200 MHz. In November 2020, the European Conference of Postal and Telecommunications Administrations (CEPT) published its decision to open an initial 480 MHz of spectrum for Low Power Indoor (LPI) devices and Very Low Power (VLP) devices that may operate both indoors and outdoors.
What are the differences in Wi-Fi 6E in the US and EMEA?
There is an agreement for Europe to allocate the band 5945 – 6425 MHz for Wi-Fi. Even though this is not the complete 6 GHz band, it still provides a lot of additional spectrum to use. However, to harmonize regulations globally and benefit from economies of scale and to accommodate future capacity needs, the Wi-Fi industry is working with regulators in Europe to open up the 6425 – 7125 MHz band as well.
Within Europe, the UK and Denmark deviate slightly from the European agreement. The UK will allow slightly higher transmit power and have a little more spectrum to use (5925 – 6425 MHz).
What device types support Wi-Fi 6E?
The following illustration shows all Wi-Fi 6E device classes, although not all device classes are supported in all geographical locations.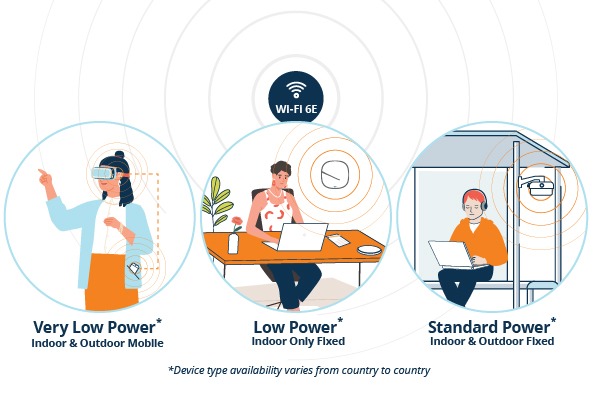 What device classes support Wi-Fi 6E?
Standard Power (SP) AP: Supports outdoor and indoor operations, where the Standard Power APs are coordinated through an Automated Frequency Coordination Service (AFC) to mitigate 6Ghz Wi-Fi from interfering with incumbent services such as public safety and cellular backhaul, microwave links, satellite services, and TV broadcast services.
Low Power Indoor (LPI) AP: This fixed indoor only class uses lower power levels and does not require an AFC. LPI APs for use in indoor enterprise deployment provide the same coverage as today's Wi-Fi 6 APs and will provide similar 6Ghz coverage as today's 5Ghz radios.
Very Low Power (VLP) AP: VLP provides mobile indoor or outdoor usage from mobile clients for use cases like small cell coverage, hotspots, etc.
Use of these three device classes varies by geography and regulatory permissions.
Are Wi-Fi 6E APs available for outdoor/ruggedized environments?
Outdoor and ruggedized Wi-Fi 6E APs are still in the works. Before outdoor APs, APs with external antennas, or APs that use standard power (>30 dBm EIRP) can be rolled out, there must be an Automated Frequency Coordination (AFC) service in place that tells the Wi-Fi 6E infrastructure which channels and power levels can be used to avoid interference with incumbents. Aruba is partnering with Federated Wireless to develop and deliver an AFC service to support outdoor use of Wi-Fi 6E. Note that there is no need for AFC indoors since low-power indoor Wi-Fi 6E APs are not subject to interference.
What is the status of 6 GHz-enabled client devices (Wi-Fi 6E devices)?
Client devices from Samsung, Zebra, and many other vendors include chipsets that support 6 GHz. Analyst firm IDC projected sales of 338M Wi-Fi 6E enabled client devices in 2021. Wi-Fi Alliance launched their certification program for Wi-Fi 6E and maintains a list of 6E enabled products. This means that Wi-Fi 6E is now ready for mass market adoption.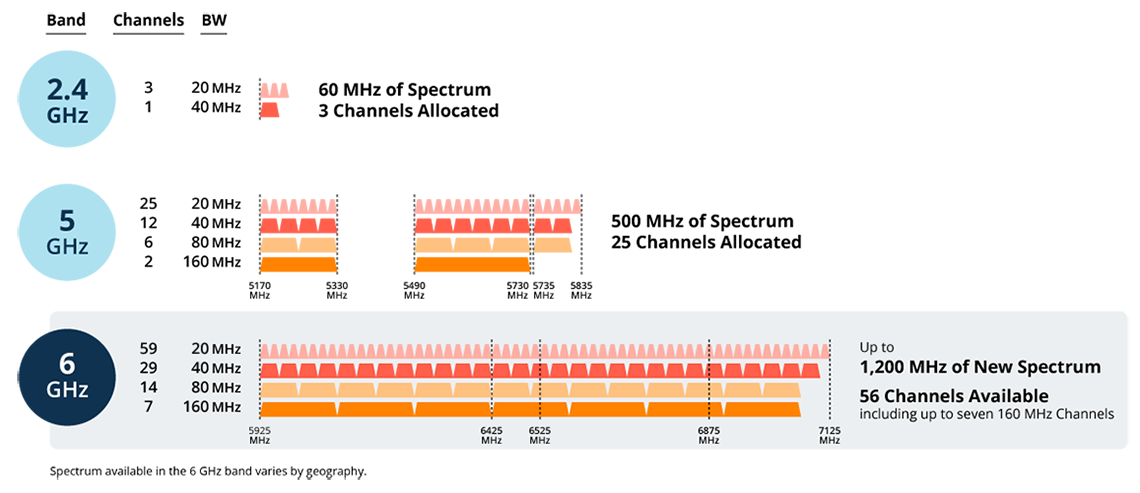 Wi-Fi 6 versus Wi-Fi 6E
Wi-Fi 6
Wi-Fi 6E (6 GHz)
Band
2.4 and 5.0 GHz spectrum
2.4, 5 and now 6 GHz spectrum (Devices must be 6 GHz enabled.)
Features

Multi User efficiencies, multi-user input/output (MU-MIMO) to remove bottlenecks
OFDMA to create carpool lanes to piggyback smaller packets like voice data
Target Wake Time (TWT) to allow APs to ping IoT devices at longer intervals & reduce traffic/extend battery life
WPA3 and Enhanced Open to enhance guest access security

Includes all features in Wi-Fi 6 plus

More capacity in the 6 GHz band
Wider channels, up to 160 MHz, which are ideal for high-def video and virtual reality
No interference from microwaves, etc. because only 6E-capable devices can use the band

Benefits
Increased efficiencies to provide greater throughput with the same number of APs, ideal for dense environments and large numbers of IoT devices
Supports greater capacity and wider channels to support multigigabit traffic, ideal for high-definition video and AR/VR (Augmented Reality/Virtual Reality)
Related resources for Wi-Fi 6E
6 GHz reference guide
Everything you need to know at a glance about the 6 GHz band, including regulatory adoption, channel information, minimizing interference, and automated frequency coordination (AFC). Critical for Wi-Fi 6E (802.11ax) and Wi-Fi 7 (802.11be) planning.
With Wi-Fi 6E, Is It Time to Consider a Layered Network Approach?
A new frontier in wireless is opening with the introduction of Wi-Fi 6E. Given the new channels, is it best to continue current practices and deploy all channels in a single layer of coverage or take a new approach?
Technical guide to Wi-Fi 6E and the 6 GHz band
Gain insight into the technical considerations of Wi-Fi 6E and 6 GHz and explore its implications for new and existing Wi-Fi deployments.
Six strategies to get the most out of Wi-Fi 6E and 6 GHz
Plan your Wi-Fi 6E journey with six strategies to help you take advantage of the additional capacity and wider channels in the 6 GHz band.
What is Wi-Fi 6?
Describes Wi-Fi 6, how it works, and its features and benefits.