Aruba SD-WAN

Improved visibility and control at the WAN edge
A comprehensive secure edge portfolio
Connect your business from edge to cloud with a single SD-WAN fabric for any-to-any mesh connectivity across locations, data centers, cloud, and SaaS.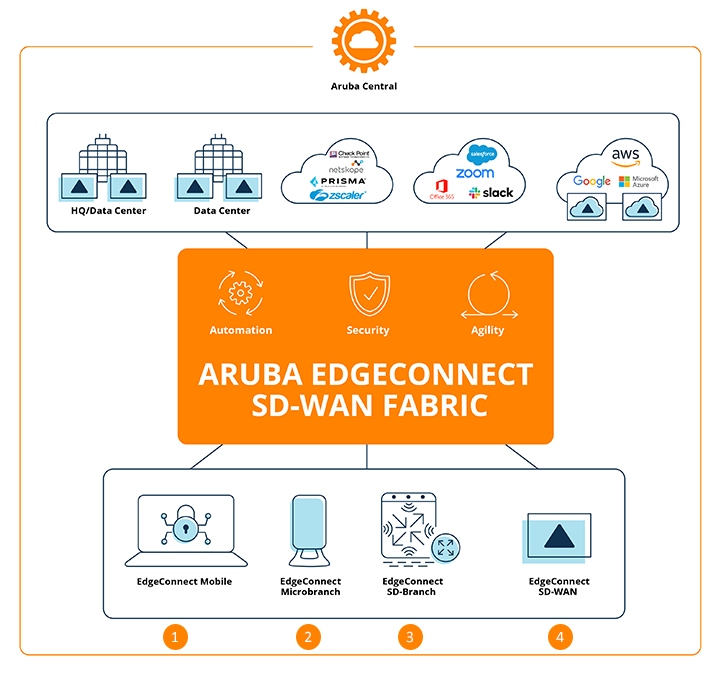 1
Aruba EdgeConnect Mobile
When dedicated Wi-Fi access points are not an option, Aruba VIA is easy to roll out, and is a cost-effective solution for your remote workforce— that means maximum mobility whether connecting on private or public networks.
2
Aruba EdgeConnect Microbranch
Ideally suited for microbranch or work-from-home sites, this minimal footprint option using a range of RAPs enables secure WAN connectivity to the corporate enterprise network.
3
Aruba EdgeConnect Branch
Consolidate branch networking components for maximum integration across WLAN, LAN, and SD-WAN with integrated security and LTE with centralized cloud management, AIOps, and unified infrastructure management.
4
Aruba EdgeConnect SD-WAN
Architect an advanced SD-WAN edge that continuously learns and adapts to changing business needs and delivers maximum network and application performance from the edge to the cloud.