Aruba Fabric Composer

Smart, software-defined orchestration solution

Related products
Aruba Fabric Composer was designed with Aruba CX switches in mind. Explore Aruba series to see if we can further lessen the stress of network infrastructure.
Features of Aruba Fabric Composer
Better understand what separates Aruba Fabric Composer from the competition.
Optimized for modern network environments
Optimized for HPE environments. Provides automated fabric provisioning and deep ecosystem integration for third-party integrated frameworks.
Deep IT ecosystem integration and visibility
Manage, provision, and visualize your network, end-to-end, through an intuitive HTML5-based user interface.
Event-based workflow automation
Provision, configure, and optimize networks in real time without the need for user intervention.
Workload optimization
Satisfy the needs of critical application workloads with policies around explicit demands, such as latency.
Global network control
Brings rapid response and scalability to centralized network management.
Rapid provisioning
Rapidly provision server networking in the data center. Expand upon compute, storage, and networking solutions.
Benefits of Aruba Fabric Composer
Struggling with manual, siloed IT provisioning and growing operating models across your infrastructure? Aruba Fabric Composer can help.
Orchestrating a discrete set of switches as a single networking fabric can significantly simplify your day-to-day operations. Plus, workflow automation and simple point-and-click interface helps you streamline and cut the complexity.
Software-defined fabric automation and orchestration can speed up infrastructure provisioning. Even better: Aruba Fabric Composer was designed to integrate into your existing operational frameworks with ease.
Aruba Fabric Composer gives you end-to-end network visibility. Combined with automated detection, you can solve connectivity and performance issues before your users or business is impacted.
Details for Aruba Fabric Composer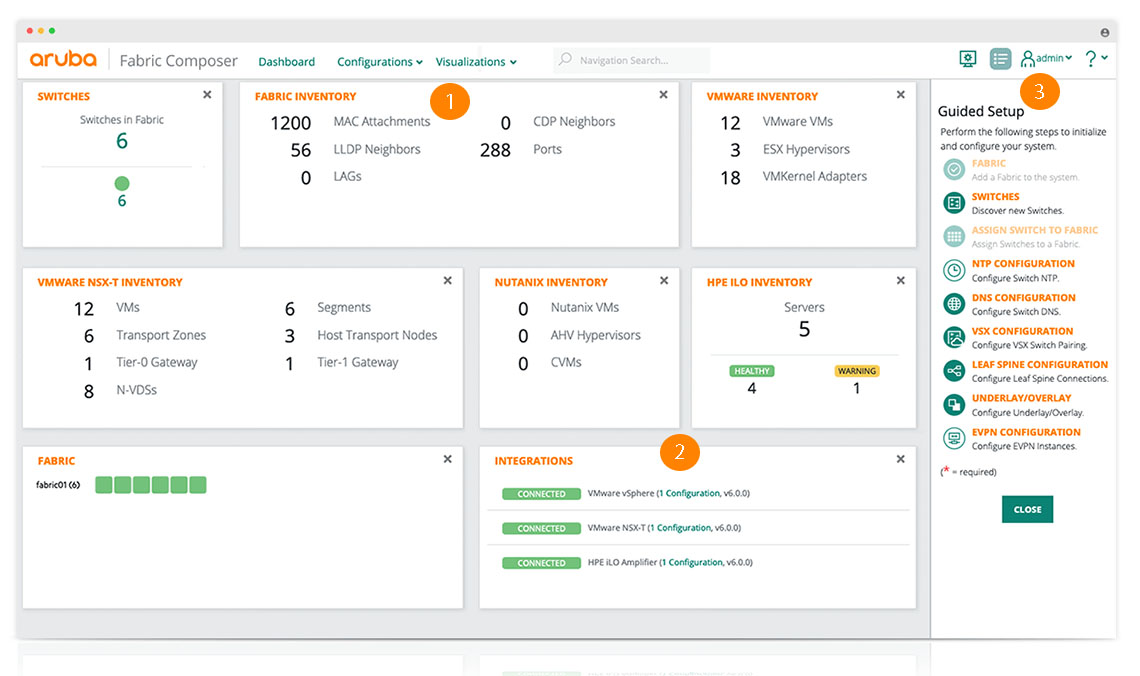 1
Aruba Fabric Composer Dashboard
Includes information about fabrics, switches, hosts, and VMs.
2
API- Level Integrations with Various Environments
Including HPE, Aruba, VMware vSphere, ESX, NSX, and Nutanix.
3
Workflow Automations and Guided Setup
Simple point-and-click GUI streamlines and automates away complexity.