Aruba 500H Series Hospitality Access Point

High performance and cost-effective Wi-Fi 6 for hospitality, branch, and remote access.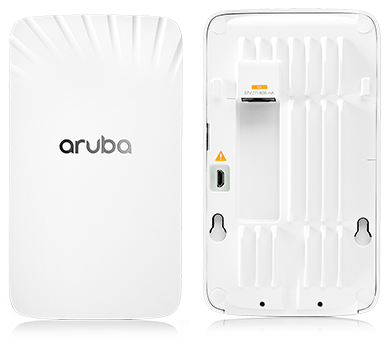 Aruba Networks Products
Aruba Wireless Hospitality Access Points
Aruba AP-505H (US) Unified AP
#R3V48A
Our Price: $944.00
Click here to jump to more pricing!
Overview:
The Aruba 500H series access points, with Wi-Fi 6 (802.11ax) technology and Aruba's intelligent software innovations, deliver high performance connectivity for mobile and IoT devices in any environment.
The 500H series is designed to simultaneously serve multiple clients and traffic types in dense environments, and boosts overall network performance by up to 400% compared to 802.11ac APs.
The 500H series includes AI-powered RF optimization, Live upgrades, WPA3 and Enhanced Open certified security, and unified wired and wireless policy with Dynamic Segmentation.
---
Why Choose Aruba 500h?

User and app firewall
The Aruba Policy Enforcement Firewall controls user and IoT access at the point of connectivity and is the underlying technology for Aruba Dynamic Segmentation.

Unsurpassed client experiences
Aruba ClientMatch, part of Aruba's AI-powered mobility solution, intelligently groups Wi-Fi 6 and MU-MIMO capable clients on the best-performing APs to optimize performance and roaming.

IoT platform capabilities
Aruba Wi-Fi 6 and Wi-Fi 5 APs include support for Zigbee, Bluetooth, and 3rd party overlays to simplify the deployment and management of IoT services.
Related Products
Specifications:
HARDWARE VARIANTS
AP-505H

5GHz: radio:

Two spatial stream (SU/MU) MIMO for up to 1.2Gbps wireless data rate (HE80)

2.4GHz radio:

Two spatial stream (SU/MU) MIMO for up to 287Mbps wireless data rate (HE20)
Note: HE40 operation is supported in 2.4GHz, but uncommon and not recommended for enterprise deployments
WI-FI RADIO SPECIFICATIONS
AP type:

High-end dual radio Wi-Fi 6 Hospitality AP with 1+4 Ethernet ports

Maximum number of associated client devices:

Up to 256 associated client devices per radio

Maximum number of BSSIDs:
Supported frequency bands (country-specific restrictions apply):

2.400 to 2.500GHz (ISM) channels 1-13
5.150 to 5.250GHz (U-NII-1) channels 36, 40, 44, 48
5.250 to 5.350GHz (U-NII-2A) channels 52, 56, 60, 64
5.470 to 5.725GHz (U-NII-2C) channels 100, 104, 108, 112, 116, 120, 124, 128, 132, 136, 140, 144
5.725 to 5.850GHz (U-NII-3) channels 149, 153, 157, 161, 165

Dynamic frequency selection (DFS) optimizes the use of available RF spectrum
Supported radio technologies:

802.11b: Direct-sequence spread-spectrum (DSSS)
802.11a/g/n/ac: Orthogonal frequency-division multiplexing (OFDM)
802.11ax: Orthogonal frequency-division multiple access (OFDMA) with up to 8 resource units

Supported modulation types:

802.11b: BPSK, QPSK, CCK
802.11a/g/n: BPSK, QPSK, 16-QAM, 64-QAM, 256-QAM (proprietary extension)
802.11ac: BPSK, QPSK, 16-QAM, 64-QAM, 256-QAM, 1024-QAM (proprietary extension)
802.11ax: BPSK, QPSK, 16-QAM, 64-QAM, 256-QAM, 1024-QAM

802.11n high-throughput (HT) support:
802.11ac very high throughput (VHT) support:
Supported data rates (Mbps):

802.11b: 1, 2, 5.5, 11
802.11a/g: 6, 9, 12, 18, 24, 36, 48, 54
802.11n: 6.5 to 300 (MCS0 to MCS15, HT20 to HT40), 400 with 256-QAM
802.11ac: 6.5 to 867 (MCS0 to MCS9, NSS = 1 to 2, VHT20 to VHT80), 1,083 with 1024-QAM
802.11ax (2.4GHz): 3.6 to 574 (MCS0 to MCS11, NSS = 1 to 2, HE20 to HE40)
802.11ax (5GHz): 3.6 to 1,201 (MCS0 to MCS11, NSS = 1 to 2, HE20 to HE80)

802.11n/ac packet aggregation:
Transmit power:

Configurable in increments of 0.5 dBm

Maximum (aggregate, conducted total) transmit power (limited by local regulatory requirements):

2.4 GHz band: +20 dBm (17 dBm per chain)
5 GHz band: +21 dBm (18 dBm per chain)
Note: conducted transmit power levels exclude antenna gain. For total (EIRP) transmit power, add antenna gain

Minimum configurable transmit power level:

0 dBm (conducted, per chain)

Advanced Cellular Coexistence (ACC):

Minimizes the impact of interference from cellular networks

Advanced IOT Coexistence (AIC):

Allows concurrent operation of multiple radios in the 2.4GHz band

Maximum ratio combining (MRC):

For improved receiver performance

Cyclic delay/shift diversity (CDD/CSD):

For improved downlink RF performance

Space-time block coding (STBC):

For increased range and improved reception

Low-density parity check (LDPC):

For high-efficiency error correction and increased throughput

Transmit beam-forming (TxBF):

For increased signal reliability and range

802.11ax Target Wait Time (TWT):

To support low-power client devices

VPN IPsec throughput performance:
WI-FI ANTENNAS
Two integrated semi-directional antennas for 2x2 MIMO with peak antenna gain of 5.0dBi in 2.4GHz and 5.4dBi in 5GHz.

Built-in antennas are optimized for vertical wall or desk mounted orientation of the AP.
Combining the patterns of each of the antennas of the MIMO radios, the peak gain of the combined, average pattern is 3.3dBi in 2.4GHz and 2.4dBi in 5GHz.
OTHER INTERFACES
Uplink (E0): Smart Rate Ethernet wired network port (RJ45)

Auto-sensing link speed (100/1000/2500BASE-T) and MDI/MDX
2.5Gbps speed complies with NBase-T and 802.3bz specifications
802.3az Energy Efficient Ethernet (EEE)
PoE-PD: 802.3af/at/bt POE (class 3, 4 or 6)

Local (E1-E4): Four Ethernet wired network ports (RJ45)

Auto-sensing link speed (10/100/1000BASE-T) and MDI/MDX
802.3az Energy Efficient Ethernet (EEE)
E1 & E2: PoE-PSE: 802.3af/at PoE output; dual 802.3af (both ports) or single 802.3at (E1 only)

DC power interface

48Vdc (nominal, +/- 5%), accepts 1.35mm/3.5mm center-positive circular plug with 9.5mm length

USB 2.0 host interface (Type A connector)

Cellular modems
IOT or other plug-in accessories
Device battery charging port
Capable of sourcing up to 1A / 5W to an attached device

Bluetooth Low Energy (BLE5.0) and Zigbee (802.15.4) radio

BLE: up to 7dBm transmit power (class 1) and -100dBm receive sensitivity (125kbps)
Zigbee: up to 7dBm transmit power and -97dBm receive sensitivity (250kbps)
Integrated semi-directional antenna with peak gain of 1.2dBi

Visual indicators (multi-color LEDs):

Power/System status
Radio status
Local network port status (4x)
PoE-PSE status (2x)

Reset button:

Factory reset, LED mode control (normal/off)

Serial console interface:

Proprietary, micro-B USB physical jack
POWER SOURCES AND POWER CONSUMPTION
Power Sources:

The AP supports direct DC power and Power over Ethernet
When both DC and PoE power sources are available, DC power takes priority over PoE
Power sources are sold separately; see the 500H Series Ordering Guide for details
When powered by DC or 802.3bt (class 6) PoE, the AP will operate without restrictions. 
When powered by 802.3at (class 4) PoE with the IPM feature disabled, the AP will disable the USB port (only) if PoE-PSE is enabled, and support (802.3af) PoE-PSE power on E1 only (no PSE on E2).
When powered by 802.3af (class 3) PoE with the IPM feature disabled, the AP will disable the USB port and PoE-PSE capability as well as ports E3 and E4. 
With IPM enabled, the AP will start up without restrictions, but may dynamically apply restrictions depending on the PoE budget and actual power consumption. The specific restrictions and order in which they are applied can be configured.

Maximum (worst-case) power consumption (without USB or PSE / max):

DC powered: 14W / 50W
PoE powered (802.3bt): 14W / 51W
PoE powered (802.3at): 14W / 25.5W
PoE powered (802.3af): 13.5W / 13.5W

Maximum (worst-case) power consumption in idle mode (without USB or PSE):
Maximum (worst-case) power consumption in deep-sleep mode (without USB or PSE):
MECHANICAL
Dimensions/weight (AP- 505; unit, excluding mount bracket):

86mm (W) x 47mm (D) x 150mm (H)
Weight: 360g

Dimensions/weight (AP-505; shipping):

111mm (W) x 54mm (D) x 167mm (H)
Weight: 450g
ENVIRONMENTAL
Operating:

Temperature: 0°C to +40°C / 32°F to +104°F
Humidity: 5% to 93% non-condensing
ETS 300 019 class 3.2 environments

Storage and transportation:

Temperature: -40°C to +70°C / -40°F to +158°F
Humidity: 5% to 93% non-condensing
ETS 300 019 classes 1.2 and 2.3 environments
RELIABILITY
Mean Time Between Failure (MTBF):

780khrs (88yrs) at +25C operating temperature.
REGULATORY COMPLIANCE
Regulatory model numbers:
Regulatory compliance:

FCC/ISED
CE Marked
RED Directive 2014/53/EU
EMC Directive 2014/30/EU
Low Voltage Directive 2014/35/EU
IEC/EN 60950
EN 60601-1-1, EN60601-1-2
IEC/EN 62368-1

For more and country-specific regulatory information and approvals, please see your Aruba representative.
CERTIFICATIONS
Certifications:

Wi-Fi Alliance:

Wi-Fi CERTIFIED a, b, g, n, ac
Wi-Fi CERTIFIED 6 (ax)
WPA, WPA2 and WPA3 – Enterprise with CNSA option, Personal (SAE), Enhanced Open (OWE)
WMM, WMM-PS, Wi-Fi Vantage, Wi-Fi Agile Multiband
Passpoint (release 2)

Bluetooth SIG
Ethernet Alliance (PoE, PD device, class 6)
MINIMUM OPERATING SYSTEM SOFTWARE VERSIONS
ArubaOS and Aruba InstantOS 8.7.0.0
Documentation:
Pricing Notes:
Pricing and product availability subject to change without notice.
Aruba Networks Products
Aruba Wireless Hospitality Access Points
Aruba AP-505H (US) Unified AP
#R3V48A
Our Price: $944.00