Aruba 9004 Gateway

Versatile, cost-effective branch networking, SD‑WAN, and security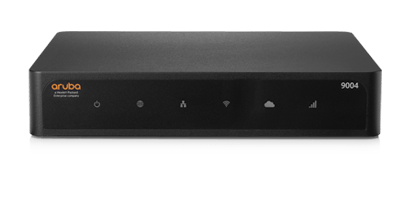 Aruba Networks Products
Aruba 9000 Series Gateway
Aruba 9004 (US) Gateway
#R1B20A
List Price:
$1,831.00
Our Price: $1,323.58
Click here to jump to more pricing!
Overview:
The Aruba 9000 Series Gateways are ideally suited for branch deployments both large and small, and serve as network appliances for SD-WAN and security. Cellular connectivity is also available. Multiple gateways can be grouped as a cluster in each branch for high availability and resiliency.
The 9000 Series is configured and managed via Aruba Central, a simple-to-use cloud-based network operations, assurance and security platform. An optional mobile installer app simplifies on-site deployments to optimize IT resources.
Designed with the flexibility to support the most demanding branch environments – the 9000 Series Gateways provide connectivity for up to 80 times the maximum client density and up to 10 times the maximum throughput of typical SD-WAN appliances.
Key Features
Cloud-managed and purpose-built for branch SDWAN requirements
Up to 10 times the performance and 80 times the client density of typical SD-WAN appliances
Unified policy enforcement for wired and wireless traffic through Aruba Dynamic Segmentation
Visibility into over 3,000 applications with no added hardware
Integrated LTE option available

Simple SD-WAN management with great scalability
Deploy SD-WAN using a simple mobile app and provide up to 10 times the performance of typical SD-WAN appliances with a maximum 6Gbps of throughput.

Dynamic Segmentation for network traffic enforcement
Supports simple to use mobile and IoT device policy enforcement for wired and wireless.

Built for IoT and the cloud
Supports up to 2,048 devices using cloud access, which is up to 80 times greater density than average SD-WAN appliances.
Pricing Notes:
Pricing and product availability subject to change without notice.
Aruba Networks Products
Aruba 9000 Series Gateway
Aruba 9004 (US) Gateway
#R1B20A
List Price:
$1,831.00
Our Price: $1,323.58
Aruba 9004 Gateway Accessories
Aruba 9004-MNT-19 Rack Mount Kit
#R1B30A
List Price:
$247.00
Our Price: $177.57
Aruba AP-AC2-12B 12V/48W AC/DC desktop style power adapter with 2.1/5.5mm connector
#R3K00A
List Price:
$81.00
Our Price: $58.24