SD-WAN

Improved visibility and control at the WAN edge

Simplify WAN routing and reduce costs with Aruba Software Defined WAN (SD-WAN). Managed by Aruba Central, Aruba SD-WAN is a simpler way to control WAN traffic and gain visibility for all existing branch deployments.
---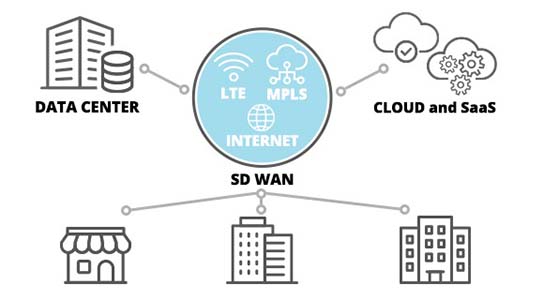 What is SD-WAN
Software-defined WAN is a new way to orchestrate routing over any mix of WAN connections - like broadband, MPLS and LTE. It improves your Total Cost of Ownership and makes the WAN much easier to deploy and manage.
---
Fast, simple deployment—no experience needed.
With Zero Touch Provisioning, any remote worker at a branch location can set up new network devices right out of the box using the installer mobile app that seamlessly works with Aruba Central. Network policy settings are automatically applied. So, the branch is up and running and IT has full visibility.
---
SD-WAN Products
Aruba SD-WAN
Software-defined WAN (SD-WAN) technology is the answer to growing bandwidth demands and tightening budget considerations. New solutions offer simplified WAN operations and reduced operational costs for those managing public and private WAN connections, and those shifting toward cloud‑based services altogether.
Aruba SD-WAN is designed for all of this and more – optimizing routing decisions and improving visibility across the WAN edge. Full Layer 7 application awareness combines with unique in-branch visibility based on end-user roles, device type, and location context to make Aruba SD-WAN ideal for distributed enterprises.
In fact, organizations in the retail, hospitality and healthcare space – which typically have lean and centralized network teams – can improve the time to deploy, manage and maintain WAN connections, while enhancing the user experience and business operations. Aruba SD-WAN serves a key role in Aruba's overall SD-Branch solution.
Download Aruba SD-WAN Datasheet (.PDF) to learn more.
---
A higher tier of performance and security.
Aruba SD-WAN optimizes WAN performance and security to support key enterprise use cases. You can gain rich network insight to boost application traffic performance, while leveraging existing security services for automated data protection.
Download the use cases guide (.PDF)
---
Features
Microsoft Features
Office 365, Teams and Skype for Business
Aruba's integration with Microsoft enables unique application insight that detects Office 365, Teams and Skype for Business traffic and then prioritizes them over less critical applications. Aruba Central also includes specific call quality heuristics for additional visibility.
Microsoft preferred solution
Aruba Virtual Gateways are a Microsoft preferred solution on the Azure Marketplace. This means the gateway application has been validated by Microsoft experts as having proven competencies and capabilities that meet customer needs.
Key Features
Centralized cloud management
High performance gateways with ZTP
Licenses with unrestricted bandwidth for every SD-WAN gateway
Policy-based routing for 3200+ applications
Dynamic path optimization for high priority SaaS apps
Virtual gateways and hub routing available for AWS and Azure
Policy enforcement firewall, DPI, Web Filtering, and IDS/IPS
---
Key WAN Features
Overlay and Hybrid WAN Management
Aruba SD-WAN introduces a new architecture that provides a network overlay for WAN connections to improve visibility and control across private and public connections (hybrid WAN).
Hub-and-Spoke Topology
Secure connections can be established from a branch site to a headend site using public or private connections. This allows users to efficiently access corporate resources hosted in data centers.
Dynamic Path Steering (DPS)
WAN traffic can be automatically routed over the best available uplink based on characteristics, such as WAN throughput, latency, jitter and packet loss.
WAN Compression
Ideal for use during periods of network congestion, this WAN compression feature allows IT to send more traffic through the same WAN circuit at any given moment or timeframe.
---
Key Configuration Features
Simplified Installation Wizard
For easy configuration of SD-WAN gateways, Aruba Central provides users with a step-by-step navigation that simplifies provisioning of the network.
Configuration Hierarchy
Network settings can be pre-configured and customized in Aruba Central based on branch-specific requirements. Zero Touch Provisioning (ZTP) provides an easy and error-free deployment model.
Zero Touch Provisioning (ZTP)
Using Zero Touch Provisioning, the hardware gateways can be factory-shipped and deployed onsite using Aruba Activate™, a cloud-based activation service that seamlessly works with Aruba Central.
Simple, mobile provisioning
Aruba's mobile installer app allows on-site personnel to easily onboard gateways. A central IT team can verify device location, licenses, and status with no additional steps required. This is available for iOS and Android.
---
Key Security & Visibility Features
Dynamic Segmentation
To simplify and better secure wired and wireless network access, the branch gateway can automatically enforce per-user and per-device roles on wired and wireless networks.
Policy Enforcement Firewall
Enforcement of policies based on user role, device type, application and location is accomplished through Aruba Dynamic Segmentation.
Application visibility and control
This feature uses Deep Packet Inspection (DPI) technology to evaluate and optimize performance and QoS policies for over 3200+ applications, including encrypted and hidden traffic.
Web content filtering
The Web Content Classification (WebCC) bundle classifies websites by content category and rates them by reputation. It can also block, apply QoS, bandwidth-limit, mirror, and log web content
---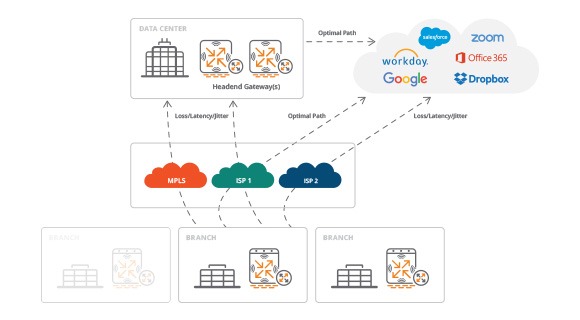 Optimizing Software as a Service with Aruba SD-WAN
This document provides examples of optimizing the performance of SaaS applications (such as Office 365, Salesforce, Dropbox, etc.).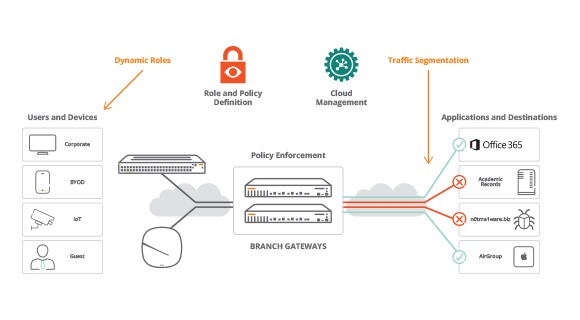 Unified Management and Policy Across the Distributed Enterprise
This document shows how SD-WAN establishes and correlates policy across LAN, WAN and Wireless networks.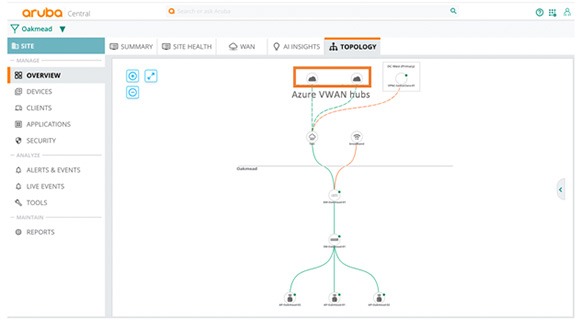 Using Aruba SD-WAN with Microsoft Azure Virtual WAN
This deployment guide describes how to deploy Aruba SD-WAN with Microsoft Azure Virtual WAN.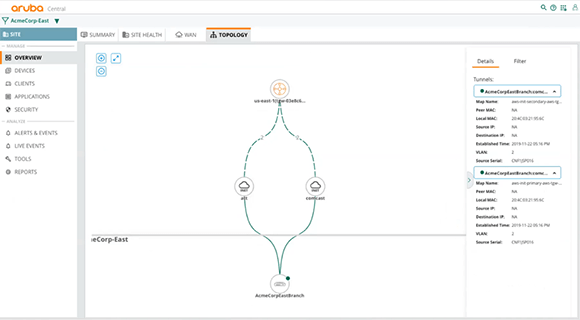 Using Aruba SD-WAN-with AWS Transit Gateway Network Manager
This deployment guide describes how to deploy Aruba SD-WAN with AWS Transit Gateway Manager Service.
---