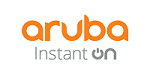 Aruba Instant On 1830 24G 2SFP Switch

An affordable solution for cost-sensitive small businesses.

Please visit our Aruba Instant On Online Store for detailed information and to purchase Aruba Instant On's products online.
Overview: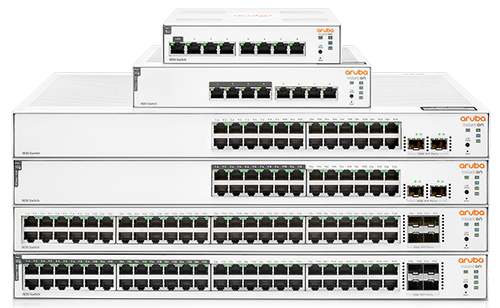 Aruba Instant On 1830 Switch Series
Perfect for home offices, retail stores, small professional offices
Small businesses continue to face challenges to stay afloat as the world wrestles with this multi-year pandemic. They need day-to-day tasks to be simple to keep operations running smoothly, and with increasing costs making it more expensive than ever to stay in business, they need affordable solutions.
Fast, reliable, and secure network connections play a critical role in helping businesses maintain a competitive advantage. At the same time, with constrained resources and a growing number of interconnected devices, getting the most valuable networking solution for the money has become a basic need for budget-strapped small businesses.
Aruba Instant On 1830 Switch Series is an affordable, easy to deploy, smart-managed switch series for small businesses looking for a cost-effective ways to keep up with evolving network demands. These are entry-level switches offering Layer 2 switching capabilities, Gigabit connectivity along with flexible management modes — all at an affordable price point.
Simplicity at its best
Plug-and-play switches that work together with Instant On APs right out of the box
Mobile app to easily setup, monitor and manage your network.

Security you can count on
Protect your network from unauthorized access with Global Storm Control, TPM (Trusted Platform module) based security and VLANs
Automatic denial-of-service (DOS) monitors and protects the network against malicious attacks

We've got you covered
No extra licensing or subscription fees
Industry-leading limited lifetime warranty and support
With a flexible management dashboard, Power over Ethernet (PoE) options, and energy-efficient features, these switches deliver a solid business network for small businesses with limited budget.
The Aruba Instant On 1830 Switch Series includes six switches: two (2) 8-port, two (2) 24-port and two (2) 48-port models in PoE and non-PoE configurations. Besides powering up through a power adapter, the 8-port non-PoE model can also be powered from an external PoE switch, offering greater flexibility for space-constrained environments by eliminating the need for additional power outlets and simplifying wiring infrastructure.
With PoE models, up to 30W PoE power delivery is available for Class 4 PoE devices like access points, surveillance cameras and VoIP phones. The 8-port, 24-port and 48-port PoE models come with the power budget of 65W, 195W and 370W respectively to support latest IoT devices.
Using either the Instant On mobile app or the cloud-based web portal, you can quickly set up, monitor and manage the 1830 Switch Series from anywhere at any time.
Highlights:
Smart-managed Layer 2 Ethernet switch series ready to deploy in 8-, 24-, 48-port for non-PoE and Class 4 PoE models
Up to 370W of PoE to power APs, IP Phones, surveillance cameras, door locks and other IoT devices
Two (2) and four (4) dedicated 1G SFP fiber ports on 24- and 48-port models respectively to eliminate traffic bottlenecks across your network
Cost-effective PoE Support: with half of the ports capable of supporting PoE, these switches are ideal for cost-sensitive environments.
8-port non-PoE switch that can be powered by an upstream Power over Ethernet (PoE) switch for environments where no line power is available.
Convenient mobile app and web-based GUI for set up, management and troubleshooting
Compact and fan-less 8-port non-PoE and PoE, and 24-port non-PoE model for acoustically sensitive environments
Aruba Instant On Warranty and Support Services
Aruba Instant On comes with a 2 year* warranty for access points and a limited lifetime warranty for the 1930 switches.
* WARRANTY & SUPPORT: Aruba Instant On 2-year warranty includes 24X7 phone support for the first 90 days and chat support for the entire warranty period. Community support is for as long as you own the products.
More info — Warranty & Support Services Datasheet
Foundation Care Solution Brief
Key Features
MANAGEMENT
Cloud-based management
The cloud-hosted web interface and mobile app make it easy to manage networks with Instant On APs and switches.
Simple local web GUI management
For management of individual switches, the intuitive Web GUI makes management simple, even for non-technical users. Supports up to five (5) HTTP and HTTP Secure (HTTPS) sessions.
Secure web-management sessions with HTTPS
Encrypts and otherwise protects management sessions through HTTP Secure (HTTPS), which prevents snooping of sensitive management information. Regardless of whether the switch is managed from the local Web GUI or the cloud, data between the switch and the management interface is encrypted and secure.
Firmware update
Provides notification of the latest firmware with the ability to schedule update at a preferred time through Instant On mobile app and cloud-based web portal.
Configuration File Management
Allows the user to back up and restore the configuration settings in case of a firmware upgrade or to apply them to other switches on the network.
DHCP client mode
Allows the switch to be directly connected to a network, enabling plug-and-play operation. In the absence of a DHCP server on the network, the switch falls back to the default static address 192.168.1.1.
Locator LED
Allows users to set the locator LED on a specific switch to either turn on, blink, or turn off; simplifying troubleshooting by making it easy to locate a particular switch within a rack of similar switches.
Comprehensive LED display
Provides an at-a-glance view of status, activity, speed, and fullduplex operation with per-port indicators.
Management VLAN ID
Provides secure management access to the switch for administrators from within the specified VLAN.
Simple Network Time Protocol (SNTP)
Allows automatic synchronization of the switch date and time for accurate tracking of system events and various schedules set by the administrator.
---
QUALITY OF SERVICE (QoS)
Class of Service (CoS)
Provides time-sensitive packets (like VoIP and video) with priority over other traffic based on DSCP or IEEE 802.1p classification; packets are mapped to four hardware queues for more effective throughput.
---
CONNECTIVITY
Auto MDI/MDI-X
Adjusts automatically for straight-through or crossover cables on all 10/100/1000 ports.
Auto-negotiating capability
Supports half/full-duplex auto-negotiating capability on every port that doubles the throughput of every port.
1G fiber connectivity
Provides 1G fiber connections for uplinks and other connections across longer distances than copper cabling can support. SFP ports are in addition to available copper Ethernet ports, providing a higher total number of available ports. Two (2) and four (4) SFP ports available on 24- and 48- port models respectively.
Ethernet Alliance PSE Class 4 PoE Certification
Power Over Ethernet (PoE) functionality is supported on certain 1830 models, known as power source equipment (PSE) ports which provide power to connected devices.
With half of the ports supporting Class 4 PoE, these models provide up to 30 W per port, which allows support of class 4 PoE or IEEE 802.3at capable devices such as video IP phones, wireless access points, as well as any 15.4 W IEEE 802.3af compliant end device, mitigating the cost of additional electrical cabling and circuits that would otherwise be necessary.
Brand
Standard
Class
Min. power at the PSE port
Max. power consumed at the PD port
Wire usage
PoE 1
IEEE 802.3 af
0-3
15.4W
13W
2 pair
IEEE 802.3 at
4
30W
25.5W
Ethernet Alliance PD Class 3 PoE Certification
Devices receiving power through PoE are referred to as powered devices (PDs).
The 8-port non-PoE Gigabit Ethernet model is a powered device that can be powered by an upstream Power over Ethernet (PoE) switch for environments where no line power is available, besides being powered up by an external power adapter. Port 1 supports Class 3 PoE with the capability of receiving IEEE 802.3af PoE power up to a maximum of 13W.
| Brand | Standard | Class | Max. power consumed at the PD port | Wire usage |
| --- | --- | --- | --- | --- |
| PoE 1 | IEEE 802.3 | 3 | 13W | 2 pair or 4 pair |
Auto-PoE power configuration
The switch automatically assigns the required power to a port for a PD device based on Link Layer Discovery Protocol (LLDP).
PoE power allocationSupport multiple methods (LLDP-MED automatic, class of PoE, or usage-based) to allocate PoE power for more efficient energy savings.

PoE Scheduling
Allows user to configure a specific day/time of the week (e.g., business hours) for Instant On switches to supply power to connected devices (e.g., surveillance cameras, access points etc.).
Port Scheduling
Allows user to configure up to three (3) schedules to enable or disable individual ports or PoE power delivery on certain switch ports by selecting a particular time of the day or a periodic occurrence.
---
SWITCHING
Flow control
Provides a flow-throttling mechanism propagated through the network to prevent packet loss at a congested node.
Spanning Tree Protocol (STP)
Supports 802.1D STP, 802.1w Rapid Spanning Tree Protocol (RSTP) for faster convergence. Provides redundant links while preventing network loops.
BPDU filtering
Drops BPDU packets when STP is enabled globally but disabled on a specific port.
Loop protection
Allows loop detection in the network for switches that do not run spanning tree, or on which STP feature is disabled.
IGMP v1, v2 snooping
IGMP snooping allows the switch to forward IPv4 multicast traffic intelligently. With IGMP snooping enabled, the switch forwards traffic only to ports that request the multicast traffic. This prevents the switch from broadcasting traffic to all ports and possibly affecting network performance.
Link aggregation
Groups together multiple ports of up to 16 trunks with a maximum of eight (8) ports per trunk automatically using Link Aggregation Control Protocol (LACP), or manually, to form a high-bandwidth connection to the network backbone that helps prevent traffic bottlenecks.
Link Layer Discovery Protocol (LLDP)
Advertises and receives management information from adjacent devices on a network, facilitating easy mapping by network management applications.
LLDP-MED (Media Endpoint Discovery)
Defines a standard extension of LLDP that stores values for parameters such as QoS and VLAN for automatic configuration of network devices such as IP phones.
VLAN support
Offers some of the benefits of both bridging and routing. VLANs partition the network into logical segments, which provide better administration, security, and multicast traffic management.
Port mirroring
Enables traffic on a port or VLAN to be simultaneously sent to a network analyzer for monitoring.
Auto recovery
Allows ports to be placed in a suspended state when defined error conditions are met. Features supported by Auto Recovery are BPDU Guard, Storm Control, Port Security, Loop Protection and Link Flap Prevention.
---
NETWORK SECURITY
TPM-based security
Includes a Trusted Platform Module (TPM) for secure hardwarebased generation and storage of cryptographic keys used for secure connection to the Instant On cloud portal.
Automatic denial-of-service protection
Manages high-volume traffic and prevents denial-of-service (DoS) attacks against the network.
Global Storm Control
Protects against conditions where incoming packets flood the LAN, causing network performance degradation for unicast traffic with an unknown destination, and for broadcast and multicast traffic.
---
PERFORMANCE AND EFFICIENCY
Energy Efficient Ethernet (EEE)
Compliant with 802.3az standard requirements to save energy during periods of low data activity.
Auto-port shut down
The switch saves power by automatically shutting down power to inactive ports. Power is restored on a port upon link detection.
Energy-efficient cooling
Includes variable speed fans operating only at the speed necessary to maintain operating temperature to reduce excess noise and power consumption.
Fan-less operation
Fan-less design for 8-port non-PoE, and PoE models as well as 24-port non-PoE model, making the switches ideal for silent operation environments.
---
FEATURES ACCESSED THROUGH LOCAL WEB-MANAGEMENT INTERFACE
Quick start-up wizard
Includes a quick start-up wizard which enable automatic configuring of the initial settings such as IP address, device information and system time.
Jumbo frame support
Supports up to 9216 bytes frame size to improve the performance of large data transfers.
User account management
Password strength checking and aging feature provides enhanced security to user account administration on the local web management interface. Password management further enhances the security so that only authorized users can access the switch's web interface.
Secure Sockets Layer (SSL)
Encrypts all HTTP traffic and secures access to the local browser-based management of the switch.
SCP and TFTP file transfer
Provides different mechanisms for secure file transfer through SCP (Secure Copy Protocol) or TFTP.
Dual image support
Provide independent primary and secondary software images for backup while upgrading.
SNMPv1, v2c (read only)
Facilitates remote management of the switch as the device can be discovered and monitored from an SNMP management station.
---
DIAGNOSTICS
Event logs
Provides detailed information for problem identification and resolution.
Session logging
Displays the active users connected to the switch, displaying client IP address, duration of the individual session.
Remote syslog
Provides support for a single syslog server allowing the user to redirect and store events to a remote syslog server (supported on local web only).
Cable diagnostic tool
Provides the mechanism to detect and report potential cabling issues, such as cable opens or cable shorts on copper links, in addition to providing distance to the fault and total length of cable (supported on local web only).
Ping IPv4
The switch supports ICMP for sending ping requests to IPv4 addresses.
Support file
Includes summary information for the switch including the current switch configuration, statistics and buffered log messages (supported on local web only).
MAC address table
Also known as the bridge table or the forwarding database, this table enables the switch to forward traffic through the appropriate port and supports up to 16K MAC address entries.
---
WARRANTY, SERVICE AND SUPPORT
Aruba Instant On Limited Lifetime Support provides 24X7 phone support for the first 90 days and chat support for the entire warranty period. Community support is included for the life of the product.
Why Instant On?:
EASY SET UP AND MANAGEMENT
The Aruba Instant On mobile app allows you to set up, manage, and monitor Instant On switches and access points directly from your phone. Within the app, you get guided step-by-step instructions to install Instant On devices to get your network up and running quickly — no technical expertise required. And cloud-based access allows you to access the network from anywhere, at any time.
TWO-FACTOR AUTHENTICATION (2FA)
As the number of security breaches continues to rise, 2FA has become an essential tool to mitigate risk against compromised login credentials. Two-Factor Authentication (2FA), provides an additional layer of authentication, prevents attackers from remotely accessing the network, and secures sensitive customer information.
OPTIMIZED USER EXPERIENCE
The Aruba Instant On mobile app provides common workflows for Instant On switches and access points making it easier to configure, monitor and manage your network remotely without the need for additional hardware like cloud keys or VPN. You can also update firmware on your Instant On devices directly from the cloud whenever you want, from wherever you are.
---
BETTER TOGETHER
Instant On automatically detects and applies highest (critical) PoE priority to Instant On Access Points for uninterrupted power delivery and wireless network access. Wired and wireless voice traffic is prioritized with high QoS priority end-to-end for optimal voice performance.
SITE INVENTORY AND TOPOLOGY VIEW
The site inventory view shows all Instant On switches and access points on a single interface, and the topology view provides an intuitive structure of all Instant On devices deployed on the network — allowing you to quickly identify non-functioning devices and troubleshoot accordingly. Network issues can be easily diagnosed with connectivity tests like Ping and Traceroute.
MULTI-SITE REMOTE MANAGEMENT
The cloud-hosted web interface and mobile app make it easy to remotely manage multiple sites, multiple networks, distributed and multi-tenant deployments. Each site is logically separated and has its own configuration, statistics, guest portal, and admin read/write privileges. Instant On allows you to create three admin accounts per site, offering the option to lock accounts from accidental deletion.
---
BUILT-IN SECURITY
Built-in security features protect your network from external threats by blocking malware attacks and keeping unauthorized users off the network. Network traffic can be filtered and access restricted based on MAC and IP address.
NO HIDDEN FEES
All features are included in the price of the hardware — there are no recurring subscription or licensing fees. Expert-level support and industry-leading limited lifetime warranty are also included, along with chat support for the life of the product.
Specifications:
Specifications
Aruba Instant On 1830 8G Switch (JL810A)
Aruba Instant On 1830 8G 4p Class4 PoE 65W Switch (JL811A)
Aruba Instant On 1830 24G 2SFP Switch (JL812A)
Aruba Instant On 1830 24G 12p Class4 PoE 2SFP 195W Switch (JL813A)
Aruba Instant On 1830 48G 4SFP Switch (JL814A)
Aruba Instant On 1830 48G 24p Class4 PoE 4SFP 370W Switch (JL815A)
Gigabit Copper Ports
8; Class 3 PD (port 1)
8; Class 4 (ports 1 -4)
24
24; Class 4 (ports 1 -12)
48
48; Class 4 (ports 1 -24)
Uplinks
—
—
2 SFP 1GbE ports
2 SFP 1GbE ports
4 SFP 1GbE ports
4 SFP 1GbE ports
Dimensions
157.0(D) x 173.0(W) x 39.1(H) mm
195.1(D) x 245.1(W) x 43.9(H) mm
215.9(D) x 443.0(W) x 43.9(H) mm
253.0(D) x 443.0(W) x 43.9(H) mm
253.0(D) x 443.0(W) x 43.9(H) mm
351.0(D) x 443.0(W) x 43.9(H) mm
Weight
1.70 lb (0.77 kg)
3.40 lb (1.54 kg)
5.50 lb (2.49 kg)
7.65 lb (3.47 kg)
7.80 lb (3.54 kg)
10.90 lb (4.94 kg)
Throughput (Mpps)
11.90 Mpps
11.90 Mpps
38.68 Mpps
38.68 Mpps
77.37 Mpps
77.37 Mpps
Switching capacity
16 Gbps
16 Gbps
52 Gbps
52 Gbps
104 Gbps
104 Gbps
Reliability MTBF (years)
188.2
105.9
203.6
96.6
114.4
83.5
Maximum power rating
100-127V: 8.09W
200-220V: 8.05W
100-127V: 86.07W
200-220V: 83.67W
100-127V: 19.1W
200-220V: 19W
100-127V: 244.6W
200-220V: 237.2W
100-127V: 40.2W
200-220V: 40W
100-127V: 462.5W
200-220V: 452.5W
Warranty
Limited Lifetime Warranty
Limited Lifetime Warranty
Limited Lifetime Warranty
Limited Lifetime Warranty
Limited Lifetime Warranty
Limited Lifetime Warranty
It's as easy as 1-2-3. Really.

First things first: Prepare your workspace. Then, power up your access point or switch.

As it powers up, download the mobile app. Create an account and configure your network when ready.

Once you're powered up and configured, you can connect. That's it. Monitor and manage the rest from your phone.
More about the Aruba Instant On app.
Get the control you need to run your business remotely. Add devices and manage your site—all from the palm of your hand. No licensing or subscription fees required.
Simplified smart mesh setup.
Add additional access points and extend your network with simple mesh setup.
Guided device setup.
Add access points and switches to your network with the integrated installation wizard in the Instant On app.
Hassle-free deployment.
Let Aruba Instant On serve as the primary Wi-Fi router to your network. Just connect your access point to your modem and you're all set.
App classification control & visibility.
Get a simplified view of the top 5 apps used in the network. Plus, block specific application categories.
Multi-network management.
Create and manage separate guest and employee networks with ease.
Bandwidth limits.
Stop bandwidth hogs. Improve your wireless network performance.
Client visibility and blocking.
Get visibility into your connected devices. Block specific, unwanted clients from accessing your network.
Wired and wireless access control list.
Prevent malicious traffic from entering your network. Restricting user access to specific websites or subnets.
Access Aruba Instant On on the web.
Same easy-to-use features. Bigger screen. Manage your network from the browser of your choice.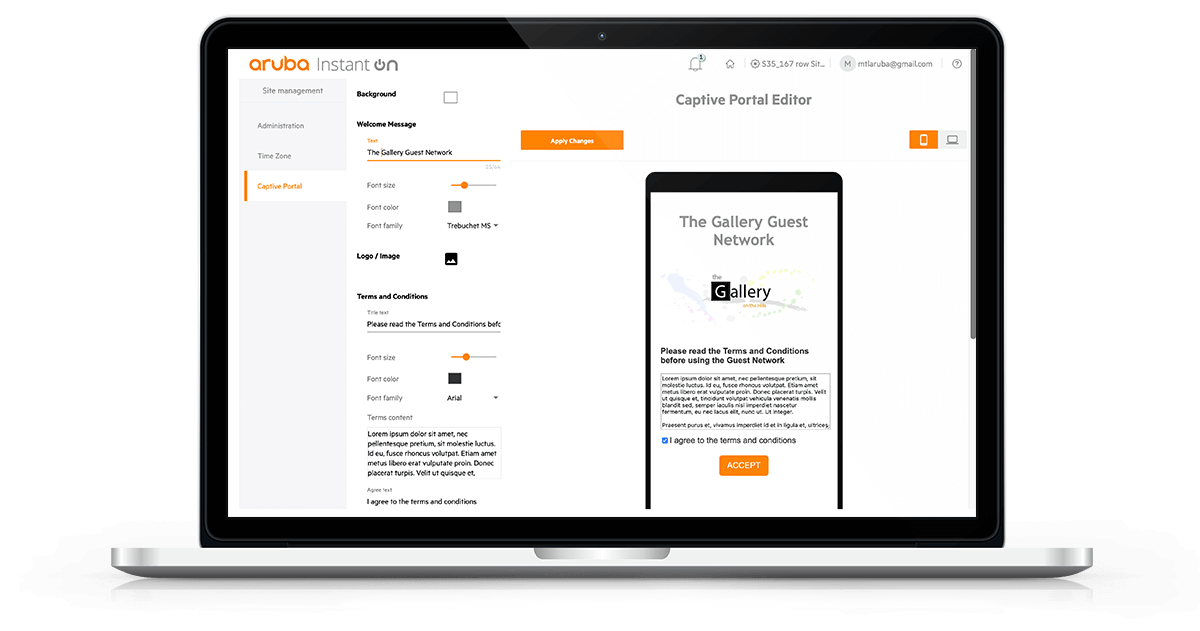 The key features of Aruba Instant On.
Auto-Optimized Radios
Get optimized network performance—even in the most congested environments. Automatically go the best 802.11 channel and transmitting power for each AP in its current RF environment.
Advanced WPA3 Support
Secure your network and provide access using a shared password. Choose either WPA2 security standards or the more advanced WPA3 security standards from your mobile app.
Simplified Troubleshooting
Take advantage of the enterprise-grade Bluetooth modules found in each of our access points. Troubleshoot any network issues you may have straight from our mobile app.
Automatic Band Selection
Get the best network band at any given time. Or, manually choose 2.4GHz, 5Ghz, or both. Enable and disable channels with a single click.
Documentation:
Pricing Notes:
Pricing and product availability subject to change without notice.