Aruba MeshConfig

Simplify the deployment and management of Aruba wireless mesh routers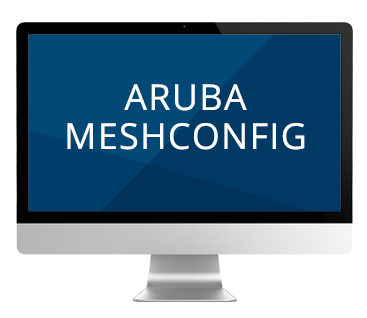 Overview:
Aruba MeshConfig is an easy-to-use web-based tool that simplifies the deployment, configuration and administration of Aruba AirMesh wireless mesh routers. From any PC running Windows 7 or XP, IT organizations can view the AirMesh topology, monitor clients, manage faults, view historical reports, and distributed software images to all or specific AirMesh routers
MeshConfig provides comprehensive historical reporting on client, mesh link and device health. MeshConfig can monitor and manage multiple AirMesh networks containing up to 250 wireless mesh routers. AirMesh routers can be automatically discovered from a range of IP addresses or they can be added manually.
As the mesh network inventory populates, MeshConfig identifies the properties of AirMesh routers, including router name, IP address, image version, status and alarm conditions. Network-wide settings can be configured within MeshConfig and propagated to all AirMesh routers in the network. Individual device settings are easily accessible from the web interface.
The MeshConfig topology mapping capability shows the links between AirMesh routers as well as link status, link quality and real-time performance statistics for each link. Individual links can be disabled, enabled or designated as a preferred connection.
Router-specific parameters – including radio, channel and security settings – can be configured through the MeshConfig web interface. Once committed, the progress of router configuration changes can be tracked in real time.