Aruba ClearPass Onboard

Automated mobile device provisioning and configuration for secure BYOD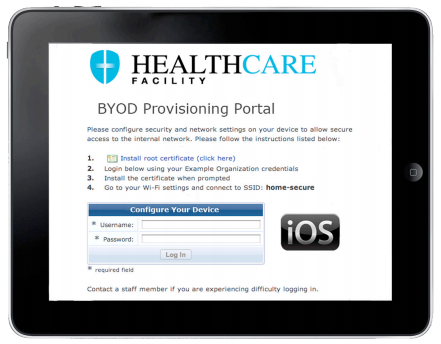 Aruba Networks Products
Onboard Device Provisioning License for Aruba ClearPass Policy Manager
Onboard License for Aruba ClearPass Policy Manager - 100 devices
#JW577AAE
Our Price: $3,500.00
Onboard License for Aruba ClearPass Policy Manager - 500 devices
Onboard License for Aruba ClearPass Policy Manager - 1,000 endpoints
Click here to jump to more pricing!
Overview:
ClearPass Onboard automatically provisions and configures personally-owned mobile devices – Windows, Mac OS X, iOS and Android 2.2 and above – enabling them to securely connect to the network in support of BYOD initiatives.
Employees, contractors and partners are automatically given permission to self-configure their own devices. The ClearPass Onboard portal dynamically detects a device's operating system and guides the user through the appropriate steps.
This provides an incredibly simple way to configure wireless, wired and VPN settings, apply unique per device certificates and profiles, and ensure that users can securely connect their devices to 802.1X-enabled networks with minimal IT interaction.
ClearPass Onboard also increases the amount of usable context for troubleshooting, user- and device-based policies, and collected compliance reporting per each device. The result is a streamlined workflow that allows IT helpdesk personnel to efficiently automate multiple processes that are required to successfully carry out BYOD initiatives while offloading IT and improving the user experience.
Automate device provisioning for secure BYOD
We make it easy to automatically provision settings and certificates for network connectivity on Windows, Mac OS X, iOS, Ubuntu, Chromebook and Android mobile devices. This enables them to connect securely to any wireless and wired enterprise network.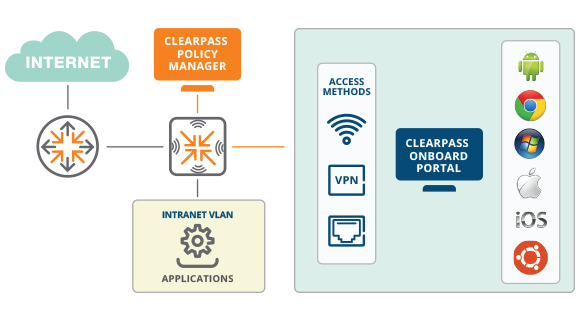 Issue unique certificates for every mobile device
With a built-in certificate authority, you can distribute certificates during provisioning that include user- and device-specific data. You can also utilize any MDM platform to request certs directly from ClearPass Onboard – SCEP and EST (RFC 7030).
BYOD is here to stay. Need help getting your enterprise ready?
Our BYOD planning guide will help with decisions regarding timelines, policies, roles (users and devices), use of device certificates, and other best practices for deploying Aruba ClearPass to leverage third party security defenses, like firewalls and MDM/EMM.
IT controls who connects
BYOD doesn't mean a wide-open network. IT writes the rules about who can connect, from which device and from what location.
ClearPass QuickConnect
Now you can automate 802.1X device configurations for wired and wireless networks without having to create distribution-of-unique-device certificates.
Pricing Notes:
Pricing and product availability subject to change without notice.