Aruba ClearPass Guest

A ClearPass Policy Manager Application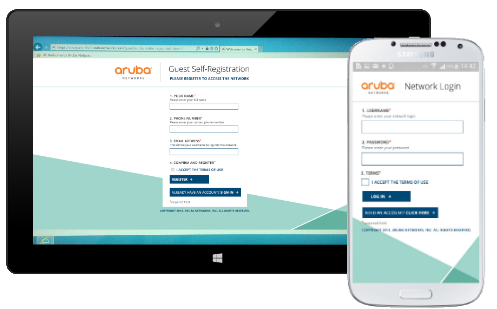 Aruba Networks Products
Guest License for Aruba ClearPass Policy Manager
Guest License for Aruba ClearPass Policy Manager - 1,000 endpoints
Click here to jump to more pricing!
Overview:
ClearPass Guest lets you give customers, contractors and other visitors secure guest access to wireless and wired networks. Whether you have 25 or 25,000 guests, you'll create a rich guest experience and easily manage visitor access privileges.
ClearPass Guest is a scalable, easy-to-use visitor management solution that delivers secure automated guest access workflows for visitors, contractors, partners, shoppers and fans on wireless and wired networks using any type of mobile device. Self-registration and sponsor involved options ensure credentials and pre-authorized access privileges are enforced for short-term and long-term guests, without putting a heavy burden on IT, receptionists and staff. Once registered, credentials can be delivered via SMS text, email, or printed badges. Accounts can be set to expire automatically after a specified number of hours or days.
Designed for organizations of all sizes, Aruba's ClearPass Guest solution offers the security and automation to support hundreds or thousands of guests, while also reducing the threats that come with unauthorized guest access and possible risks.
Enterprise-grade security and controls
Login and traffic encryption options for public networks are included with ClearPass Guest. Automated policy enforcement and quality-of-service controls allow guest access without compromising internal network security and performance.
Create a customized guest access portal
We make it easy to create a customized guest web portal using your organization's logo and other distinctive brand elements. It's equally simple to create unique data-entry fields for guest names, sponsors, email, mobile numbers and acceptance of use.
Make it easy to register
Self-registration, social logins and sponsor options ensure guest access credentials and privileges are enforced for all without burdening your IT helpdesk.
In-browser advertising
Engage your guests with targeted web-based content and advertising to promote mobile device apps, new products, and special customer loyalty offers.
Pricing Notes:
Pricing and product availability subject to change without notice.