Aruba NetInsight

AI-powered analytics and assurance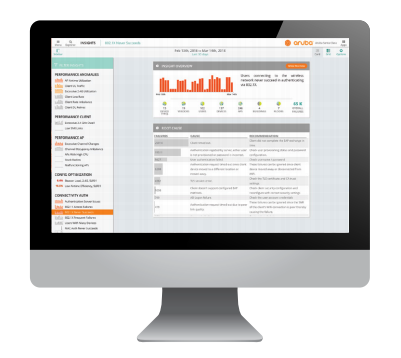 Aruba Networks Products
Aruba NetInsight
Aruba NetInsight 1-year Subscription
#JZ115AAE
List Price:
$50.00
Our Price: $36.39
Click here to jump to more pricing!
Overview:
Powered by machine learning and Aruba's deep wireless expertise, Aruba NetInsight uses network analytics to diagnose issues before they're reported and optimizes performance to assure the best user experience possible.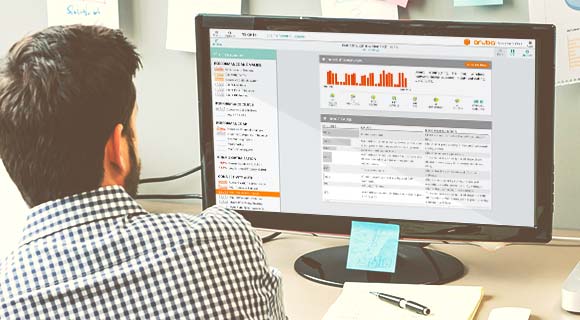 Resolve issues before they disrupt your business.
Traditional monitoring tools are mostly reactive, with little ability to provide a dynamic view of mobile user behavior, device connections and the effect apps have on the network. What if there was a better way to deliver a better user experience?
Improve network performance with actionable insights you can trust.
NetInsight automatically benchmarks your network against similar peer networks to identify positive and negative performance and connectivity patterns - even ones that support multiple location or remote offices.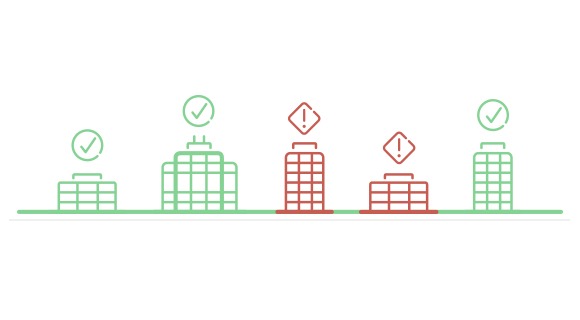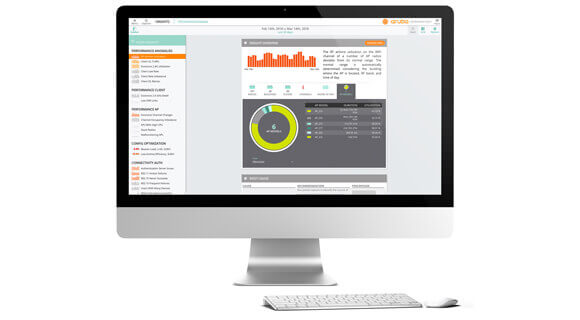 A data-driven approach to optimizing network performance.
NetInsight uses patented machine learning algorithms to detect problems. It automatically eliminates false positives when the network is not performing as expected – even hard to find issues. Prescriptive recommendations pinpoint what needs to change.
Ensure your network runs at its best.
Improve Wi-Fi performance, even as the number of users and IoT devices increases, or when their behavior and traffic loads change. NetInsight automatically benchmarks your network and lets you see how well it compares to similar networks.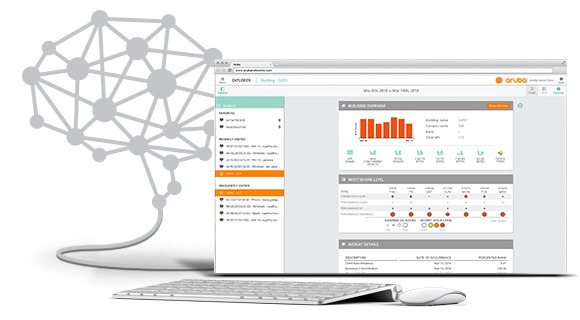 AI-powered analytics for a smarter network.
With data-driven insights, organizations can continuously improve network performance by proactively identifying and preempting issues before users and your business are impacted.
How NetInsight Works
Data feeds from multiple sources including your Aruba wireless infrastructure, DHCP and authentication servers are gathered via a data collector that is deployed onsite in your data center.
The data is then compressed and sent via a secure tunnel to the NetInsight cloud instance.
NetInsight is then able to analyze network connectivity and performance issues by leveraging machine learningbased models, Aruba's Wi-Fi expertise, and the latest cloud technologies.
A web-based dashboard allows network admins to view insights along with root causes, and more importantly, provides recommendations to fix immediate and foreseeable network performance issues. When enabled, NetInsight will provide closed-loop operation to automatically implement recommendations and report changes.
Prescriptive recommendations to optimize Wi-Fi performance and application assurance
Network baseline with insights from Wi-Fi, authentication and DHCP data resources
Real-time network anomaly detection
Impact validation for tracking effect of network changes
Closed-loop operation for continuous self-optimization
Visualization of user mobility for network and resource planning
Green AP mode for machine learning-based power savings
Helpdesk dashboard for accelerated troubleshooting
Cloud sourcing for cross-organization comparisons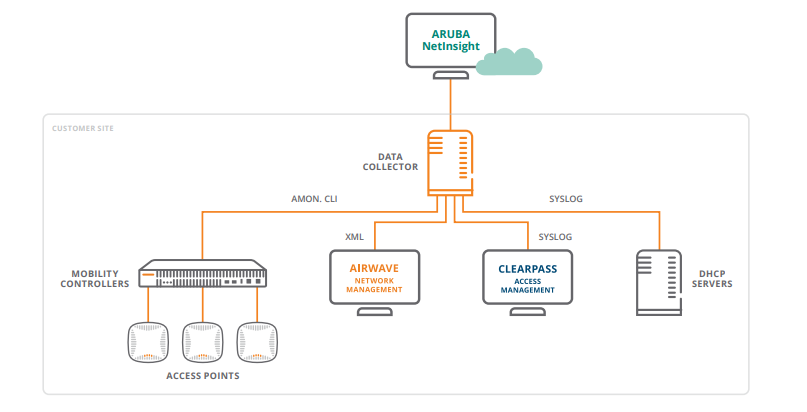 Pricing Notes:
Pricing and product availability subject to change without notice.
Aruba Networks Products
Aruba NetInsight
Aruba NetInsight 1-year Subscription
#JZ115AAE
List Price:
$50.00
Our Price: $36.39