Aruba AirWave

Centralized visibility and management for multivendor access networks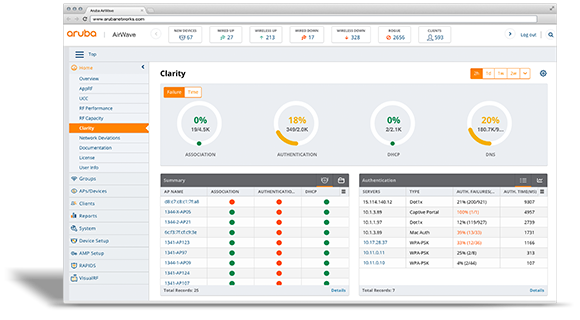 Aruba Networks Products
AirWave Software
Aruba LIC-AW Aruba Airwave with RAPIDS and VisualRF 1 Device License E-LTU
#JW546AAE
List Price:
$200.00
Our Price: $143.78
Click here to jump to more pricing!
Overview:
Aruba AirWave is a powerful and easy-to-use network operations system that not only manages wired and wireless infrastructure from Aruba and a wide range of third-party manufacturers, but also provides granular visibility into devices, users and applications on the network. With unprecedented insight and centralized control to effectively manage global enterprise infrastructures, AirWave lets IT organizations proactively optimize network performance, strengthen wireless security and improve the end-user experience.
Through a centralized and intuitive user interface, AirWave provides real-time monitoring, proactive alerts, historical reporting, and fast, efficient troubleshooting. Dedicated dashboard views quickly help view potential RF coverage issues, unified communications and collaboration (UCC) traffic, application performance and network services health.
The Aruba Clarity add-on module proactively analyzes end-users' quality of experience by providing enhanced monitoring capabilities for critical network services, such as time and response failures for a mobile device to associate with a Wi-Fi radio. Other services monitored include authentication time period to a RADIUS server, gathering an IP address through DHCP, and resolution of names for DNS services. This gives IT organizations end-to-end visibility into problems before they escalate as metrics are monitored in real-time, and also captured through on-demand or scheduled testing for predictive insight.
AppRF provides deep visibility into common applications and web traffic on the network to ensure mission-critical apps get priority, users are not visting risky sites, or for simply gauging usage patterns. A dedicated UCC dashboard provides granular visibility into Unified Communications applications such as Skype for Business and all Wi-Fi calls traversing your network.
VisualRF location and mapping offers network-wide views of the entire RF environment. Maps of Wi-Fi coverage and the underlying wired topology show a clear and accurate picture of who is on the network, their location and how the network is performing. Additionally, overlays of client health and application performance can help to quickly diagnose issues specific to a client, a floor plan or specific location. Our AirWave RAPIDS rogue detection works with our RFProtect wireless intrusion protection software module to collect data and mitigate issues with rogue APs, rogue clients and wireless intrusion events across wired and wireless networks. The wireless data collected by RAPIDS is correlated with wired network data to identify the most significant and relevant threats, while greatly reducing false-positives and strengthening network security.
Available as software or a combined hardware and software appliance, AirWave gives IT the power to make intelligent, well-informed decisions about the network while reducing cost and complexity of improving service quality.
Solve connectivity issues before they happen
With the new Aruba Clarity module, AirWave proactively monitors critical non-RF metrics — the time it takes for a mobile device to associate with a Wi-Fi radio, authenticate to a RADIUS server, gather an IP address through DHCP, or resolve names for DNS services. With custom alerts and simulated client testing, Clarity lets IT take proactive action against future performance problems.

See what's inside all those mobile apps
With Aruba AppRF, AirWave provides deep visibility into performance and usage of mobile and web apps. Reputation reports allow you to quickly take action against high risk sites and control Wi-Fi usage by app category. User role, device type and location specific insights let you make quick decisions to protect business critical apps.
Watch Wi-Fi coverage on-demand
AirWave uses VisualRF to allow for time-lapse mining of Wi-Fi coverage – enabling wireless network engineers to record and replay 24 hours of RF heat mapping. VisualRF also powers location specific, visual analytics on mobile and web app usage, mobile device performance, mobile UC voice and video quality, and more.
Simplify management of multivendor networks
Get granular visibility across your entire access infrastructure and manage multiple generations of wired and wireless networks from just about any vendor – from controllerless to controller-managed and from legacy Wi-Fi to the latest 802.11ac WLANs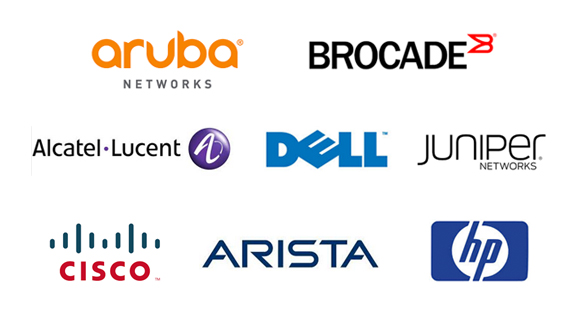 Pricing Notes:
Pricing and product availability subject to change without notice.
Aruba Networks Products
AirWave Software
Aruba LIC-AW Aruba Airwave with RAPIDS and VisualRF 1 Device License E-LTU
#JW546AAE
List Price:
$200.00
Our Price: $143.78
Aruba AirWave Failover License
Aruba AW-25-FR AirWave 25 Device Failover License
#JW558AAE
List Price:
$2,000.00
Our Price: $1,437.80
Aruba AW-50-FR AirWave 50 Device Failover License
#JW559AAE
List Price:
$4,000.00
Our Price: $2,875.60
Aruba AW-100-FR AirWave 100 Device Failover License
#JW560AAE
List Price:
$6,000.00
Our Price: $4,313.41
Aruba AW-200-FR AirWave 200 Device Failover License
#JW561AAE
List Price:
$12,000.00
Our Price: $8,626.81
Aruba AW-500-FR AirWave 500 Device Failover License
Aruba AW-1000-FR 1000 AirWave Device Failover License
Aruba AW-2500-FR 2500 AirWave Device Failover License
Aruba AW-EXF1-50 AirWave 50 Device Failover Expansion License
#JW565AAE
List Price:
$80.00
Our Price: $57.51
Aruba AW-EXF1-2500 AirWave 2500 Volume Failover Expansion License
#JW566AAE
List Price:
$30.00
Our Price: $21.56
Aruba AW-MASTER AirWave Master Console License
#JW567AAE
List Price:
$14,995.00
Our Price: $10,779.92
HPE Aruba Services
Aruba 1 Year Foundation Care 24x7 Airwave 1 Device
Aruba 1 Year Foundation Care 24x7 AirWave 25 Fail Over
#H2WC3E
List Price:
$408.00
Our Price: $392.91
Aruba 1 Year Foundation Care 24x7 AirWave 50 Fail Over
#H2WF3E
List Price:
$801.00
Our Price: $771.35
Aruba 1 Year Foundation Care 24x7 AirWave 100 Fail Over
#H2VZ3E
List Price:
$1,181.00
Our Price: $1,137.29
Aruba 1 Year Foundation Care 24x7 AirWave 200 Fail Over
#H2WB3E
List Price:
$2,391.00
Our Price: $2,302.52
Aruba 1 Year Foundation Care 24x7 AirWave 500 Fail Over
#H2WH3E
List Price:
$4,958.00
Our Price: $4,774.52
Aruba 1 Year Foundation Care 24x7 AirWave 1000 Fail Over
#H2WA3E
List Price:
$5,935.00
Our Price: $5,715.36
Aruba 1 Year Foundation Care 24x7 AirWave 2500 Fail Over
#H2WD3E
List Price:
$14,858.00
Our Price: $14,308.15
Aruba 1 Year Foundation Care 24x7 AirWave MasterConsole
#H2WJ3E
List Price:
$2,970.00
Our Price: $2,860.08