Aruba AP-203H Access Point



Sorry, this unit has been discontinued and is no longer available for purchase, the recommended replacement product is - Aruba AP-303H (US) Unified AP #JY680A.
End of Sale (EOS) : 31-Mar-2022 - EOS dates are dependent upon the continued availability of stock, we strongly encourage customers to transition new orders to the replacement product that is identified.
End of Support (EOST): 31-Mar-2027 - After this date, all support services for the product are unavailable, and the product reaches End of Life.
Please Contact Us for stock availability, placing orders and/or better pricing.
Overview:
This cost-effective 802.11ac access point with single or dual radio mode delivers high performance Wi-Fi networks for hospitality and branch offices, while minimizing costs for low to moderate density areas.
The compact Aruba 203H AP is software configurable to operate in either 1x1 dual radio mode, or 2x2 single radio mode. It supports up to 867Mbps in the 5GHz band or up to 400Mbps in the 2.4 GHz band in single radio 2x2 mode. In dual radio 1x1 mode, the maximum data rates for the 203H AP are up to 433Mbps in the 5GHz band and 200Mbps in the 2.4GHz band.
The The 203H AP can be easily mounted to a standard data wall-box using the existing structured cabling system or converted to a desk mounted AP using an optional mounting kit. With its flexible deployment options, the 203H is designed to deliver high-speed Wi-Fi for cost- sensitive, medium-density environments. It ensures the most cost-effective Wi-Fi connectivity for indoor premises including hotel rooms, dormitories, small offices and remote workstations.
Powered by PoE, the 203H AP minimizes power consumption with rich features that further facilitates a highly efficient and reliable wireless network. The 802.11ac 203H AP combines wireless and wired access in a single compact device. The local Gigabit Ethernet port can securely attach wired devices to your network. Additionally, the USB host interface on the AP allows the plug-in of Aruba BLE radio modules to enable advanced location and indoor wayfinding, and proximity- based push notification services.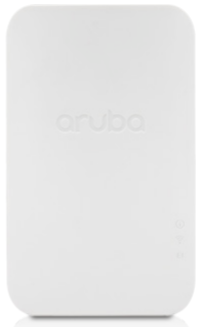 Single-gang wall-box (primary hospitality deployment)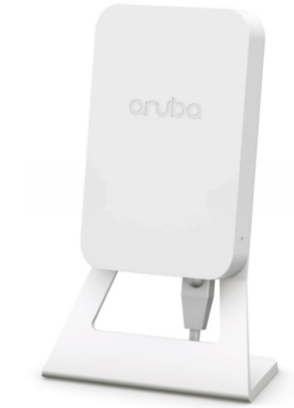 Desk mount (primary remote/branch deployment, using optional desk mount accessory)
---
CHOOSE YOUR DEPLOYMENT AND OPERATING MODES
Aruba APs offer a choice of deployment and operating modes to meet your unique management and deployment requirements:
The 203H AP is the unified AP that supports both controller-based and controllerless deployment modes, providing maximum flexibility
Controller-based mode: When deployed in conjunction with an Aruba Mobility Controller, Aruba APs offer centralized configuration, data encryption, policy enforcement and network services, as well as distributed and centralized traffic forwarding.
Controllerless (Instant) mode: The controller function is virtualized in a cluster of APs in Instant mode. As the network grows and/or requirements change, Instant deployments can easily migrate to controller- based mode.
Remote AP (RAP) mode for branch deployments
Air monitor (AM) for wireless IDS, rogue detection and containment
Secure enterprise mesh
For large installations across multiple sites, the Aruba Activate service significantly reduces deployment time by automating device provisioning, firmware upgrades, and inventory management. With Aruba Activate, APs in Instant mode can configure themselves when powered up.
Pricing Notes:
Pricing and product availability subject to change without notice.
Aruba Networks Products
HPE Aruba Foundation Care Next business day Exchange
Aruba 1 Year Foundation Care Next business day Exchange AP-203H
Aruba 3 Year Foundation Care Next business day Exchange AP-203H
Aruba 4 Year Foundation Care Next business day Exchange AP-203H
Aruba 5 Year Foundation Care Next business day Exchange AP-203H
HPE Aruba Foundation Care 4-Hour Exchange
Aruba 1 Year Foundation Care 4-Hour Exchange AP-203H
Aruba 3 Year Foundation Care 4-Hour Exchange AP-203H
#H6PU0E
List Price:
$50.00
Our Price: $49.77
Aruba 4 Year Foundation Care 4-Hour Exchange AP-203H
Aruba 5 Year Foundation Care 4-Hour Exchange AP-203H
HPE Aruba Services Renewal
Aruba 1 Year Renewal Foundation Care Next business day Exchange AP-203H
#H6PW9PE
Our Price: $13.00
Aruba 1 Year Renewal Foundation Care 4-Hour Exchange AP-203H
#H6PX2PE
Our Price: $22.00
Mounting Accessories
AP-203H-MNT1 Kit with Spare Single-gang Wall-box Mount Adapter for 203H Series AP
#JY701A
List Price:
$30.00
Our Price: $21.56
AP-203H-MNTW Kit with Optional Wall or Dual-gang Box Mount Adapter for 203H Series AP
#JY703A
List Price:
$50.00
Our Price: $35.95
AP-203H-MNTD Kit with Optional Desk Mount Adapter for 203H Series AP
#JY704A
List Price:
$50.00
Our Price: $35.95
USB BLE Radio Module
Aruba LS-BT1USB-5 Bluetooth 5pk USB
#JW315A
List Price:
$210.00
Our Price: $167.77
Aruba LS-BT1USB-50 Bluetooth 50pk USB
#JW316A
List Price:
$2,100.00
Our Price: $1,677.79
Generic Indoor AP Accessories
PD-3510G-AC 15.4W 802.3af PoE 10/100/1000Base-T Ethernet Midspan Injector
Includes US Power Cord
#JW627A#ABA
List Price:
$100.00
Our Price: $67.10
Aruba AP-CBL-SERU Micro-USB TTL3.3V to USB2.0 AP Console Adapter Cable
#JY728A
List Price:
$32.00
Our Price: $23.00
AP-CBL-ETH10 10-pk Short Ethernet Cable
#JW072A
List Price:
$93.00
Our Price: $66.86