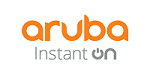 Upgrading to Aruba Instant On 1430 from HPE OfficeConnect 1405 and 1420 Switch Series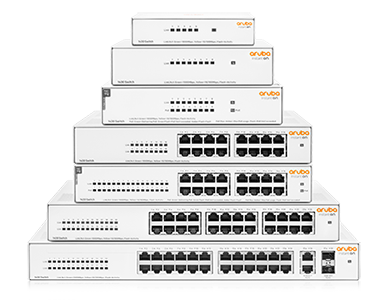 Overview:
Technology brings new revenue opportunities, more effective communication, and improved productivity to businesses of all sizes. Yet it also poses daily challenges of configuration and maintenance, especially for small businesses who lack IT support. Small offices and home offices need reliable network connectivity that's fast, configuration-free, and affordable for even the most budget-strapped businesses.
For customers looking to install new or replace older unmanaged switches, including the HPE OfficeConnect 1405 and 1420 Switch Series, the Aruba Instant On 1430 Switch Series is a modern plug-and-play solution for small businesses looking for simple, reliable, and low-cost network connectivity. These easy-to-use unmanaged switches deliver Layer 2 Gigabit Ethernet switching capabilities — at an affordable price — to help connect and share common resources like printers and access points, without any complicated network configuration. With plug-and-play operation, fully automated functions, zero ongoing maintenance, and Power over Ethernet (PoE) models, these switches deliver simple, reliable connectivity for the smallest SMBs and home offices.
Aruba Instant On 1430 switches are ideal for deployments in home offices and small professional offices.
Key Benefits
Fast performance: Unmanaged Layer 2 Gigabit Ethernet switch series ready to deploy in 5-, 8-, 16-, 24-, and 26-port models, including 8- and 16-port PoE models.
Plug-and-play: Fully automated functions with no configuration or management needed.
PoE for IoT: Up to 124W of PoE to power APs, IP Phones, and other IoT devices.
Quiet deployment: All models are fan-less for silent operation in acoustically sensitive spaces.
Ready for home and office: Class B certified for home office networks (5 and 8 port models).
Peace of mind: Limited Lifetime Warranty means Aruba has your back now and in the future.
Warranty, Service and Support
Aruba Instant On Limited Lifetime Support provides 24X7 phone support for the first 90 days and chat support for the entire warranty period. Community support is included for the life of the product.
To learn more about Aruba 1430 Switch Series, click here.
Why Upgrade:
More PoE ports: Connect more IoT devices with PoE enabled on all 16 ports vs. partial PoE on HPE OfficeConnect 24-port model.
Better user experience: Spanning Tree BPDU Forwarding for improved spanning tree efficiency and 802.1x EAPoL forwarding for faster user-client authentication.
Better warranty: Limited Lifetime warranty vs. 3-year warranty on HPE OfficeConnect 1405 series.
Smooth migration: Both switch series work together allowing seamless migration at your own pace
The Aruba Instant On 1430 Switch Series includes seven different models, so as you grow your network, migrate to the Instant On 1430 based on features you need, and rest assured that these series work together, you can update at your own pace
Model Comparison
HPE OfficeConnect 1405 and 1420
Aruba Instant On 1430
5 ports
1405 5G v3 Switch — 5 x 10/100/1000 ports
Aruba Instant On 1430 5G Switch — 5 x 10/100/1000 ports
1420 5G Switch — 5 x 10/100/1000 ports
8 ports
1405 8G v3 Switch — 8 x 10/100/1000 ports
Aruba Instant On 1430 8G Switch — 8 x 10/100/1000 ports
1420 8G Switch — 8 x 10/100/1000 ports
16 ports
1420 16G Switch — 16 x 10/100/1000 ports
Aruba Instant On 1430 16G Switch — 16 x 10/100/1000 ports
24 and 26 ports
1420 24G Switch — 24 x 10/100/1000 ports
Aruba Instant On 1430 24G Switch — 24 x 10/100/1000 ports
1420 24G 2SFP Switch — 24 x 10/100/1000 ports; 2 SFP 1GbE ports
Aruba Instant On 1430 26G 2SFP Switch — 26 x 10/100/1000 ports; 2 SFP 1GbE ports
1420 24G 2SFP+ Switch — 24 x 10/100/1000 ports; 2 SFP+ 10GbE ports
PoE Models
5 and 8 ports PoE
1420 5G PoE+ 32W Switch — 5 x 10/100/1000 ports; 32W PoE
Aruba Instant On 1430 8G Class4 PoE 64W Switch — 8 x 10/100/1000 ports; 64W PoE
1420 8G PoE+ 64W Switch — 8 x 10/100/1000 ports; 64W PoE
16 and 24 ports PoE
1420 24G PoE+ 124W Switch — 24 x 10/100/1000 ports; 124W PoE; 12 ports PoE-enabled
Aruba Instant On 1430 16G Class4 PoE 124W Switch — 16 x 10/100/1000 ports; 124W PoE; 16 ports PoE-enabled