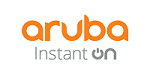 Aruba Instant On 1960 48G 40p Class4 8p Class6 PoE 2XGT 2SFP+ 600W Switch (JL809A)

A scalable solution for growing businesses with heavy bandwidth requirements.

Aruba Instant On 1960 hardware is backordered indefinitely and cannot be purchased, please check 1960 Series Switches for a viable in-stock replacement, please contact us for further assistance.
Pricing Notes:
Pricing and product availability subject to change without notice.