Aruba 1950 48G 2SFP+ 2XGT PoE+ Switch (JG963A)

Advanced 10 Gigabit smart web-managed switch for fast network connectivity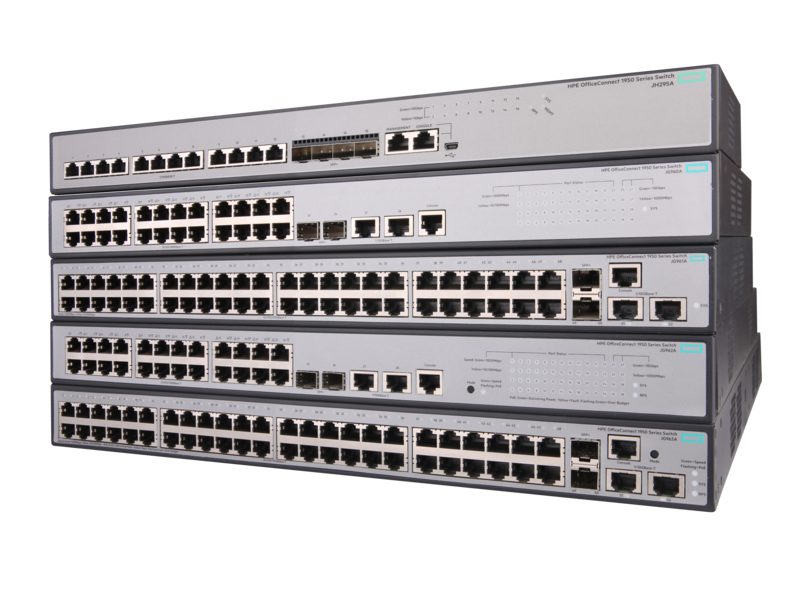 Looking for a better price? Call our Sales team today - 844-356-5141 or click here to request a quote.
Sorry, this product is no longer available, please contact us for a replacement.
Click here to jump to more pricing!
Overview:
The HPE OfficeConnect 1950 Series is a smart Web-managed 10-Gigabit and Gigabit platform for advanced small business networks needing the highest performance now or in the future.
The HPE OfficeConnect 1950 Switch Series includes five switches: New to the series is a 16-port 10-Gigabit aggregation switch that has 12 10GBASE-T and 4 SFP+ ports, which is ideal as the core of a high performance workgroup or small business network. Additional series models have Gigabit access ports with 10-Gigabit uplinks, including two standard and two PoE+ models in 24- and 48-port configurations. The access switches each have two 10GBASE-T ports supporting copper- based Category 6A-based cabling, and two 10G SFP+ ports for fiber connectivity. The PoE+ models both have a PoE power budget of 370 W to power up PoE/PoE+ compliant client devices.
The HPE OfficeConnect 1950 Switch Series has an intuitive Web-based interface for simple customization of network operation. It supports true stacking—of two aggregation switches and separately of up to four access switches—with multiple units logically administered as a single entity, simplifying administration while supporting greater network redundancy. Models support both rack mounting and desktop operation. These switches have IPv4 and IPv6 operation, with Layer 2 switching as well as Layer 3 static routing. Other features include: link aggregation to boost link performance; VLANs, Access Control Lists, and 802.1X network login for enhanced security; and three versions of Spanning Tree Protocol (STP) for added network resiliency. HPE OfficeConnect 1950 Switch Series includes a Limited Lifetime Warranty.
Key Features
10G Connectivity for fast network to servers and storage
Combination of SFP+ and 10GBASE-T ports supports fiber and cost-effective copper connectivity
True stacking allows for redundancy while simplifying administration
Customized operation using intuitive Web interface
Limited lifetime warranty
Pricing Notes:
Pricing and product availability subject to change without notice.