Aruba AP-387 Access Point

802.11ad and 802.11ac for high speed outdoor point-to-point connectivity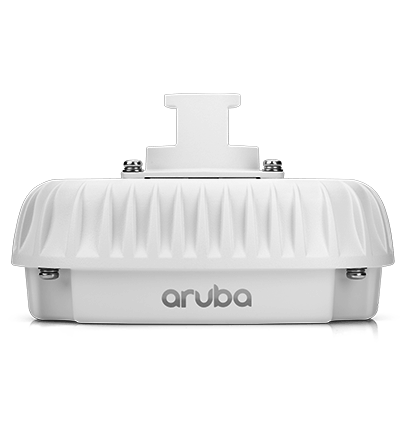 Sorry, this unit has been discontinued and is no longer available for purchase, the recommended replacement product is - Aruba AP-577 (US) Unified AP #R4H23A.
End of Sale (EOS) : 30-Jun-2022 - EOS dates are dependent upon the continued availability of stock, we strongly encourage customers to transition new orders to the replacement product that is identified.
End of Support (EOST): 30-Jun-2027 - After this date, all support services for the product are unavailable, and the product reaches End of Life.
Please Contact Us for stock availability, placing orders and/or better pricing.
Click here to jump to more pricing!
Overview:
The Aruba 387 access points are a cost-effective, simple to deploy and high performing point-to-point solution that is built upon Aruba's hardened outdoor portfolio.
Weather-proof and temperature hardened, the Aruba AP-387 withstands the harshest outdoor environments.
With a maximum concurrent data rate of 2.5 Gbps in the 60GHz band and 867 Mbps in the 5GHz band, the AP-387 delivers an aggregate peak on air data rate of 3.37 Gbps.
The AP-387 is perfect for quickly and reliably connecting remote buildings, overcoming right of way issues or installing failover links in the event of line cuts or crushed conduit pipes. Also for improved network simplicity and security, Dynamic Segmentation automatically enforces real-time device-level access policies on Aruba wired and wireless networks.
---
Why Aruba 387?

Simple to deploy
The AP-387 uniquely leverages intelligent 60GHz radio auto-alignment at deployment and during operation.

Reliability you can count on
Uniquely designed with two separate radios in the event of 60GHz failure, the AP intelligently falls back to the 5GHz radio.

Purpose built for the outdoors
Hardened hardware ensures your point-to-point Wi-Fi can endure extreme temperature and moisture.
Related Products
Specifications:
WI-FI RADIO SPECIFICATIONS
AP type:

Outdoor hardened, dual radio, 60GHz 11ad and 5GHz 802.11ac 2x2 MIMO

60 GHz 802.11ad 1x1 (2502.5 Mbps max rate) radio

1 Spatial Stream for up to 2.5 Gbps
Internal scanning antenna

+/- 45° Azimuth Scan
+/- 17° Vertical Scan

5GHz 802.11ac 2x2 MU-MIMO (867 Mbps max rate)

Two spatial stream MIMO for up to 867 Mbps wireless data
Internal directional antenna 9 dBi

Software-configurable dual radio supports 5 GHz (Radio 0) and 60GHz (Radio 1)
Supported frequency bands (country-specific restrictions apply):

2.400 to 2.4835 GHz (BLE)
5.150 to 5.250 GHz
5.250 to 5.350 GHz
5.470 to 5.725 GHz
5.725 to 5.850 GHz
5.825 to 5.875 GHz
57 to 64 GHz

Available channels: Dependent on configured regulatory domain.
Dynamic frequency selection (DFS) maximizes the use of available 5GHz RF spectrum.
Supported radio technologies:

802.11a/g/n/ac: Orthogonal frequency-division multiplexing (OFDM)
802.11ad: Single carrier (SC)

Supported modulation types:

802.11a/g/n/ac: BPSK, QPSK, 16-QAM, 64-QAM, 256-QAM
802.11ad: BPSK, QPSK

Transmit power: Configurable in increments of 0.5 dBm for 5 GHz
Maximum EIRP (limited by local regulatory requirements):

60GHz band: 40 dBm EIRP max
5GHz band:  387: 34 dBm EIRP

Maximum ratio combining (MRC) for improved receiver performance on 5 GHz.
Cyclic delay/shift diversity (CDD/CSD) for improved downlink RF performance.
Short guard interval for 20MHz, 40MHz, 80MHz on 5GHz.
Low-density parity check (LDPC) for high-efficiency error correction and increased throughput.
802.11ac Transmit beam-forming (TxBF) for increased signal reliability and range
802.11ad Beam Steering
Supported 11a/ac data rates (Mbps):

802.11a 6, 9, 12, 18, 24, 36, 48, 54
802.11n (5GHz): 6.5 to 600 (MCS0 to MCS15)
802.11ac: 6.5 to 867 Mbps (MCS0 to MCS9, NSS = 1 to 2 for VHT20/40/80)

802.11n high-throughput (HT) support: HT 20/40
802.11ac very high throughput (VHT) support: VHT 20/40/80/160
802.11ad
802.11n/ac packet aggregation: A-MPDU, A-MSDU
POWER
Worst-case power consumption: 13.5 W
Idle power consumption: 4.5W
Power sources sold separately
Power over Ethernet (PoE+): 802.3at-compliant
Power over Ethernet (PoE): 802.3af with some operational restriction.

Max conducted power per chain for 5GHz drops to 19 dBm
OTHER INTERFACES
One 10/100/1000BASE-T Ethernet network interfaces (RJ-45)

Auto-sensing link speed and MDI/MDX
802.3az Energy Efficient Ethernet (EEE)

Bluetooth Low Energy (BLE) radio

Up to 4dBm transmit power (class 2) and -91 dBm receive sensitivity

Visual indicator (multi-color LED): For system and radio status
Reset button: Factory reset (during device power up)
Micro USB console interface
MOUNTING
AP-270-MNT-V1
AP-270-MNT-V2
AP-270-MNT-H1*
AP-270-MNT-H2*
* Recommended bracket solutions for most apps.
MECHANICAL
Dimensions (excluding mount adapter):

18 cm (W) x 18 cm (D) x 10.1 cm (H)

Weight (excluding mount adapter):
ENVIRONMENTAL
Operating:

Temperature: -40°C to +60°C (-40°F to +140°F)
Humidity: 5% to 95% non-condensing

Storage and transportation:

Temperature: -40°C to +70°C (-40°F to +158°F)

Operating altitude: 3,000 m
Water and dust
Salt tolerance

Tested to ASTM B117-07A salt spray 200 hrs

Wind survival: up to 165 mph
Shock and vibration ETSI 300-19-2-4
REGULATORY COMPLIANCE
FCC/ISED
CE Marked
RED Directive 2014/53/EU
EMC Directive 2014/30/EU
Low Voltage Directive 2014/35/EU
UL/IEC/EN 60950
EN 60601-1-1, EN60601-1-2
For more country-specific regulatory information and approvals, please see your Aruba representative.
REGULATORY MODEL NUMBERS
CERTIFICATIONS
CB Scheme Safety, cTUVus
UL2043 plenum rating
Wi-Fi Alliance certified 802.11a/b/g/n/ac
MINIMUM OPERATING SYSTEM SOFTWARE VERSIONS
ArubaOS 8.4 and Aruba InstantOS 8.4
Documentation:
Pricing Notes:
Pricing and product availability subject to change without notice.
Aruba Networks Products
Mounting Kits
AP-270-MNT-V1 270 Series Outdoor Pole/Wall Long Mount Kit
#JW052A
Our Price: $168.00
AP-270-MNT-V2 270 Series Outdoor Pole/Wall Short Mount Kit
#JW053A
Our Price: $140.00
AP-270-MNT-H1 AP-270 Series Outdoor AP Hanging or Tilt Install Mount Kit
#JW054A
Our Price: $140.00
AP-270-MNT-H2 AP-270 Series Access Flush Wall or Ceiling Mount
PoE+ Accessories
PD-9001GO-NA 30W 802.3at PoE+ 10/100/1000 Otdr Surge Prot NA Power Cord Mdspan Injector
#JW700A
Our Price: $886.00
PD-9001GO-DC 30W 802.3at PoE+ 10/100/1000 12-24V DC in Outdoor Surge Prot Midspan Injector
#JW630A
Our Price: $886.00
PD-9001GR-AC 30W 802.3at PoE+ 10/100/1000 Ethernet Indoor Rated Midspan Injector
#JW629A
Our Price: $155.00