Aruba AP-377 Access Point

High performance 802.11ac Wave 2 for outdoor environments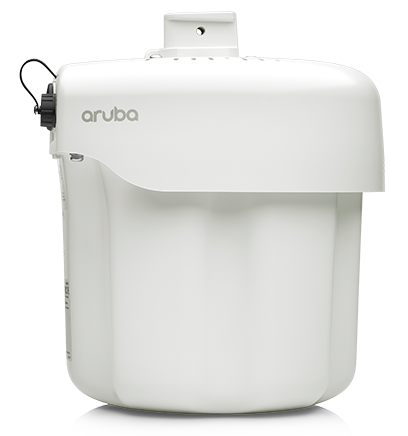 Aruba Networks Products
Aruba Wireless Access Point
Aruba AP-377 (US) Outdoor 11ac AP
#JZ183A
List Price:
$2,459.00
Our Price: $1,767.77
Click here to jump to more pricing!
Overview:
Weatherproof and temperature hardened, Aruba 370 series access points deliver 802.11ac Wave 2 Gigabit Wi-Fi to outdoor and environmentally challenging locations. The 370 high-performance and high power series deliver maximum capacity and range. It delivers 4x4:4SS MU-MIMO capability, Aruba's advanced ClientMatch and an integrated Bluetooth beacon to enable Aruba location services.
Purpose-built to survive in the harshest outdoor environments, 370 Series APs can withstand exposure to extreme high and low temperatures, persistent moisture and precipitation, and are fully sealed to keep out airborne contaminants. All electrical interfaces include industrial strength surge protection.
With a maximum concurrent data rate of 1,733 Mbps in the 5 GHz band and 300 Mbps in the 2.4 GHz band (for an aggregate peak data rate of 2.0 Gbps), the Aruba 370 Series Access Points can quickly add required capacities to your existing or new wireless networks.
The high performance and high density 802.11ac the 370 Series supports 160 MHz channel bandwidth (VHT160), multi-user MIMO (MU-MIMO) and 4 spatial streams (4SS).
Proactive and deterministic, ClientMatch dynamically optimizes Wi-Fi client performance as users roam and RF conditions change. If a mobile device moves away from an AP or RF interference impedes performance, ClientMatch automatically steers it to a better AP.
With ClientMatch, clients load web pages faster, deliver video streams with improved quality and support high densities of mobile devices. An 802.11ac network without ClientMatch performs no different than an 802.11n WLAN.
The 370 Series also has an integrated Bluetooth Aruba Beacon that simplifies the remote management of a network of large-scale battery-powered Aruba beacons while also providing advanced location and way finding, and proximity- based push notification capabilities. It enables businesses to leverage mobility context to develop applications that can deliver an enhanced user experience and increases the value of the wireless network for organizations.
---
CHOOSE YOUR DEPLOYMENT AND OPERATING MODES
As unified APs, the Aruba 370 Series can be deployed with or without a controller and can be readily switched to accommodate changing network needs.
Controller mode: When managed by Aruba Mobility Controllers, Aruba 370 Series APs offer centralized configuration, data encryption, policy enforcement and network services, as well as distributed and centralized traffic forwarding or,
Controllerless (Instant) mode: In Aruba Instant mode, a single AP automatically distributes the network configuration to other Instant APs in the WLAN. Simply power-up one Instant AP, configure it over the air, and plug in the other APs – Instant Network.
Other functional modes include:
Remote AP (RAP) mode for branch deployments
Air monitor (AM) for wireless IDS, rogue detection and containment
Spectrum analyzer (SA), dedicated or hybrid, for identifying sources of RF interference
Secure enterprise mesh
Hybrid AP serves Wi-Fi clients and provides wireless intrusion protection and spectrum analysis
For large installations across multiple sites, the Aruba Activate service significantly reduces deployment time by automating device provisioning, firmware upgrades, and inventory management. With Aruba Activate, the Instant APs are factory-shipped to any site and configure themselves when powered up.
Pricing Notes:
Pricing and product availability subject to change without notice.
Aruba Networks Products
Aruba Wireless Access Point
Aruba AP-377 (US) Outdoor 11ac AP
#JZ183A
List Price:
$2,459.00
Our Price: $1,767.77
HPE Aruba Foundation Care Next business day Exchange
Aruba 1 Year Foundation Care Next business day Exchange AP-377
#H9QJ9E
List Price:
$107.00
Our Price: $103.05
Aruba 3 Year Foundation Care Next business day Exchange AP-377
#H9QK1E
List Price:
$288.00
Our Price: $277.35
Aruba 4 Year Foundation Care Next business day Exchange AP-377
#H9QK5E
List Price:
$362.00
Our Price: $348.60
Aruba 5 Year Foundation Care Next business day Exchange AP-377
#H9QK9E
List Price:
$439.00
Our Price: $422.75
HPE Aruba Foundation Care 4-Hour Exchange
Aruba 3 Year Foundation Care 4-Hour Exchange AP-377
#H9QK2E
Our Price: $462.00
Aruba 5 Year Foundation Care 4-Hour Exchange AP-377
#H9QL0E
Our Price: $705.00
HPE Aruba Services Renewal
Aruba 1 Year Renewal Foundation Care Next business day Exchange AP-377
#H9QL3PE
List Price:
$107.00
Our Price: $103.05