Aruba AP-365 Access Point

Low-cost 802.11ac Wave 2 outdoor access points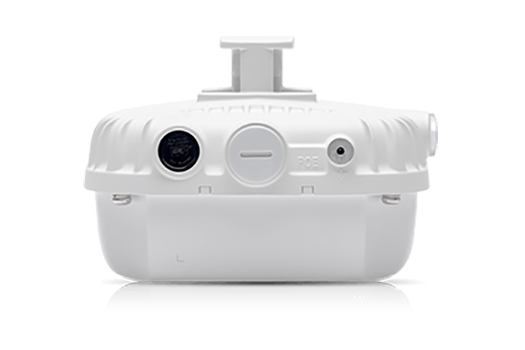 Aruba Networks Products
Aruba Wireless Access Point
Aruba AP-365 (US) Outdoor AP
Includes US Power Cord
#JX967A#ABA
List Price:
$1,360.00
Our Price: $907.12
Click here to jump to more pricing!
Overview:
Multifunctional 360 Series outdoor 802.11ac Wave 2 access points deliver cost-effective wireless connectivity for mobile and IoT devices in educational, enterprise, retail, and industrial settings.
By supporting dual radio operation, the 360 Series APs deliver a maximum data rate of 867 Mbps in the 5-GHz band and 400 Mbps in the 2.4-GHz band, while supporting MU-MIMO operation for simultaneous transmission for up to two 802.11ac Wave 2 devices.
Able to survive in harsh outdoor environments, the 360 Series can withstand exposure to high and low temperatures, persistent moisture and precipitation, and are fully sealed to keep out airborne contaminants. All electrical interfaces include industrial strength surge protection.
The outdoor 360 Series have integrated Aruba ClientMatch™ technology to eliminate sticky clients and enhanced Wave 2 WLAN performance. These outdoor APs continuously gather session performance metrics and utilize the data to steer mobile devices to the best AP and radio on the WLAN, even while users roam. The enhanced ClientMatch technology enables the 360 Series to automatically detect, classify and group 802.11ac Wave 2 capable mobile devices under a single Wave 2 radio, increasing network capacity and efficiency.
Like all Aruba Wave 2 access points, the outdoor 360 Series APs have an integrated Bluetooth Aruba Beacon that simplifies remote management for a network of large-scale battery-powered Aruba Beacons, while also providing advanced location and indoor wayfinding and proximity- based push notification capabilities. This enables businesses to leverage mobility context for developing applications that deliver an enhanced user experience – thus increasing the value of the wireless network for organizations.
---
CHOOSE YOUR DEPLOYMENT AND OPERATING MODES
The 360 Series APs offer a choice of operating modes to meet your unique management and deployment requirements.
Controller-managed AP or Remote AP (RAP) running ArubaOS™ – When managed by Aruba Mobility Controllers, 360 Series APs offer centralized configuration, data encryption, policy enforcement and network services, as well as distributed and centralized traffic forwarding. Please refer to the Aruba Mobility Controller data sheets for more details.
Aruba 360 Series APs running InstantOS™ – In Aruba Instant mode, a single AP automatically distributes the network configuration with other APs in Instant mode in the WLAN.
Air monitor
Hybrid WLAN AP and air monitor
Secure enterprise mesh
For large installations across multiple sites, the Aruba Activate™ service significantly reduces deployment time by automating device provisioning, firmware upgrades, and inventory management. With Aruba Activate, Aruba APs in Instant mode are factory shipped to any site and configure themselves when powered up
If WLAN and network requirements change, a built-in migration path allows 360 Series APs in Instant mode to become part of a WLAN that is centrally managed by a Mobility Controller.
Pricing Notes:
Pricing and product availability subject to change without notice.
Aruba Networks Products
Aruba Wireless Access Point
Aruba AP-365 (US) Outdoor AP
Includes US Power Cord
#JX967A#ABA
List Price:
$1,360.00
Our Price: $907.12
2. ADD POWERING ACCESSORIES (OPTIONAL)
PD-9001GO-DC 30W 802.3at PoE+ 10/100/1000 12-24V DC in Outdoor Surge Prot Midspan Injector
#JW630A
List Price:
$886.00
Our Price: $636.94
PD-9001GO-NA 30W 802.3at PoE+ 10/100/1000 Otdr Surge Prot NA Power Cord Mdspan Injector
#JW700A
List Price:
$944.00
Our Price: $678.65
PD-9001GO-INTL 30W 802.3at PoE+ 10/100/1000 Outdoor Surge Prot Intl Power Cord Injector
*Backorder
#JW701A
Get a Quote!
3. ADD MOUNT ACCESSORIES (OPTIONAL)
AP-270-MNT-V1 270 Series Outdoor Pole/Wall Long Mount Kit
#JW052A
List Price:
$168.00
Our Price: $121.44
AP-270-MNT-V2 270 Series Outdoor Pole/Wall Short Mount Kit
#JW053A
List Price:
$140.00
Our Price: $101.20
AP-270-MNT-H1 AP-270 Series Outdoor AP Hanging or Tilt Install Mount Kit
#JW054A
List Price:
$140.00
Our Price: $101.20
AP-270-MNT-H2 AP-270 Series Access Flush Wall or Ceiling Mount
#JW055A
List Price:
$73.00
Our Price: $52.76
HPE Aruba Foundation Care Next business day Exchange
Aruba 1 Year Foundation Care Next business day Exchange AP-365
#H4XN9E
List Price:
$69.00
Our Price: $67.33
Aruba 3 Year Foundation Care Next business day Exchange AP-365
#H4XP4E
List Price:
$186.00
Our Price: $179.12
Aruba 4 Year Foundation Care Next business day Exchange AP-365
#H4XR5E
Our Price: $242.00
Aruba 5 Year Foundation Care Next business day Exchange AP-365
#H4XT6E
List Price:
$293.00
Our Price: $282.15
HPE Aruba Foundation Care 4-Hour Exchange
Aruba 1 Year Foundation Care 4-Hour Exchange AP-365
#H4XP0E
List Price:
$103.00
Our Price: $99.18
Aruba 3 Year Foundation Care 4-Hour Exchange AP-365
#H4XP5E
List Price:
$278.00
Our Price: $267.71
Aruba 4 Year Foundation Care 4-Hour Exchange AP-365
#H4XR6E
Our Price: $361.00
Aruba 5 Year Foundation Care 4-Hour Exchange AP-365
#H4XT7E
List Price:
$437.00
Our Price: $418.73
HPE Aruba Services Renewal
Aruba 1 Year Renewal Foundation Care Next business day Exchange AP-365
#H4XV7PE
List Price:
$63.00
Our Price: $61.79
Aruba 1 Year Renewal Foundation Care 4-Hour Exchange AP-365
#H4XV9PE
Our Price: $103.00