Aruba AP-303H Access Point

High-performance 802.11ac Wave 2 for hospitality and branch offices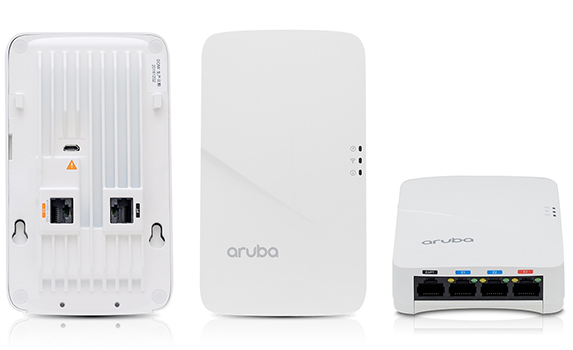 Aruba Networks Products
Aruba Wireless Access Point
Aruba AP-303H (US) Unified AP
#JY680A
List Price:
$672.00
Our Price: $483.09
Click here to jump to more pricing!
Overview:
The multi-functional Wave 2 303H access point delivers best-in class Wi-Fi connectivity for hospitality and branch offices, enabling an always-on user experience with low Total Cost of Ownership (TCO).
With a maximum concurrent data rate of 867Mbps in the 5GHz band and 300Mbps in the 2.4GHz band, the 303H AP delivers high-performance Gigabit Wi-Fi for hospitality and branch environments at an attractive price point. It supports multi-user MIMO (MU-MIMO) and 2 spatial streams (2SS) to provide simultaneous data transmission for up to 2 devices, maximizing data throughput and improving network efficiency.
The 303H AP can be easily mounted to a standard data wall-box using the existing structured cabling system or converted to a desk mounted AP using an optional mounting kit. It is ideal for schools (dormitories, classrooms), hotels, medical clinics, branch offices and remote workstations which often require flexible and easy deployment options.
The 802.11ac Wave 2 303H AP combines wireless and wired access in a single compact device. Three local Gigabit Ethernet ports are available to securely attach wired devices to your network. One of these ports is also capable of supplying PoE power to the attached device.
Like all other Aruba Wave 2 APs, the 303H AP includes the enhanced ClientMatch™ technology that extends the client steering technology with MU-MIMO client awareness. It automatically identifies MU-MIMO capable mobile devices and steers those devices to the closest MU-MIMO capable Aruba access point to achieve the best WLAN performance in a mixed device environment during the technology transition period.
The integrated Bluetooth Aruba Beacon in the 303H AP simplifies the remote management of a large scale network of battery-powered BLE Aruba Beacons while also providing advanced location and indoor wayfinding, and proximity-based push notification capabilities.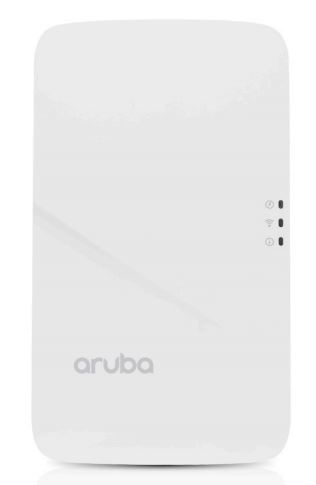 Single-gang wall-box (primary hospitality deployment)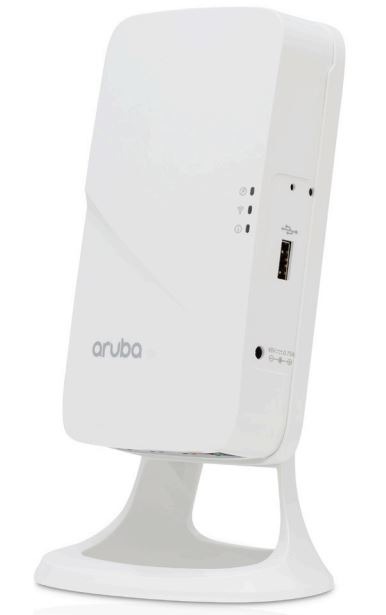 Desk mount (primary remote/branch deployment, using optional desk mount accessory)
---
CHOOSE YOUR DEPLOYMENT AND OPERATING MODES
Aruba Unified APs offer a choice of deployment and operating modes to meet your unique management and deployment requirements:
The 303H AP is a unified AP that supports both controller-based and controllerless deployment modes, providing maximum flexibility
Controller-based mode: When deployed in conjunction with an Aruba Mobility Controller, Aruba APs offer centralized configuration, data encryption, policy enforcement and network services, as well as distributed and centralized traffic forwarding.
Controllerless (Instant) mode: The controller function is virtualized in a cluster of APs in Instant mode. As the network grows and/or requirements change, Instant deployments can easily migrate to controller-based mode.
Remote AP (RAP) mode for branch deployments
Air monitor (AM) for wireless IDS, rogue detection and containment
Spectrum analyzer, dedicated or hybrid, for identifying sources of RF interference
Secure enterprise mesh
For large installations across multiple sites, the Aruba Activate service significantly reduces deployment time by automating device provisioning, firmware upgrades, and inventory management. With Aruba Activate, APs in Instant mode can configure themselves when powered up.
Pricing Notes:
Pricing and product availability subject to change without notice.
Aruba Networks Products
Aruba Wireless Access Point
Aruba AP-303H (US) Unified AP
#JY680A
List Price:
$672.00
Our Price: $483.09
2. ADD POWERING ACCESSORIES (OPTIONAL)
PD-3510G-AC 15.4W 802.3af PoE 10/100/1000Base-T Ethernet Midspan Injector
Includes US Power Cord
#JW627A#ABA
List Price:
$100.00
Our Price: $67.10
3. ADD MOUNT ACCESSORIES (OPTIONAL)
Instant On AP11D Single-gang Mount Kit
#JY686A
List Price:
$32.00
Our Price: $23.00
AP-303H-MNT2 AP Mount Kit for AP-303H Dual Gang Wall Box Mount Adapter
#JY687A
List Price:
$56.00
Our Price: $40.26
AP-303H-MNTD Desk Mount Kit for AP-303H Adapter
#JY689A
List Price:
$56.00
Our Price: $40.26
HPE Aruba Foundation Care Next business day Exchange
Aruba 1 Year Foundation Care Next business day Exchange AP-344
Aruba 3 Year Foundation Care Next business day Exchange AP-303H
#H6PQ3E
List Price:
$79.00
Our Price: $76.58
Aruba 4 Year Foundation Care Next business day Exchange AP-303H
#H6PQ7E
Our Price: $103.00
Aruba 5 Year Foundation Care Next business day Exchange AP-303H
#H6PR1E
List Price:
$124.00
Our Price: $119.40
HPE Aruba Foundation Care 4-Hour Exchange
Aruba 1 Year Foundation Care 4-Hour Exchange AP-303H
Aruba 3 Year Foundation Care 4-Hour Exchange AP-303H
#H6PQ4E
List Price:
$128.00
Our Price: $123.27
Aruba 4 Year Foundation Care 4-Hour Exchange AP-303H
#H6PQ8E
Our Price: $163.00
Aruba 5 Year Foundation Care 4-Hour Exchange AP-344
#H6PR2E
Our Price: $198.00
HPE Aruba Services Renewal
Aruba 1 Year Renewal Foundation Care Next business day Exchange AP-303H
#H6PR5PE
Our Price: $30.35
Aruba 1 Year Renewal Foundation Care 4-Hour Exchange AP-303H
#H6PR8PE
List Price:
$46.00
Our Price: $45.85