Aruba AP-203R Access Point

802.11ac access point for home and small branch offices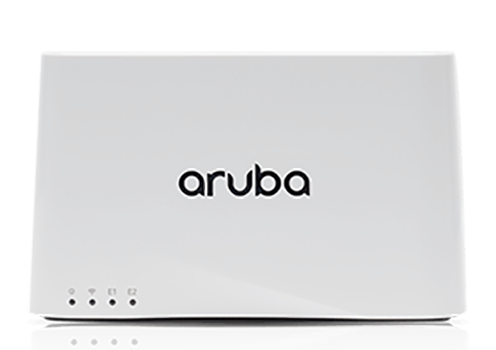 Aruba Networks Products
Aruba Wireless Access Point
Aruba AP-203R (US) Flex-radio 802.11ac 2x2 Unified Remote AP with Internal Antennas
#JY714A
List Price:
$364.00
Our Price: $263.13
Aruba AP-203R (US) FIPS/TAA Flex-radio 802.11ac 2x2 Unified Remote AP with Internal Antennas
#JY715A
List Price:
$488.00
Our Price: $350.83
Click here to jump to more pricing!
Overview:
The multifunctional Aruba 203R Remote AP delivers secure and fast 802.11ac wireless and wired network access to corporate resources for branch and home offices.
Unique in the industry, the compact Aruba 203R remote AP is software configurable to operate in either 1x1 dual radio mode, or 2x2 single radio mode. It supports up to 867Mbps in the 5GHz band or up to 400Mbps in the 2.4 GHz band when operating in single radio 2x2 mode. In dual radio 1x1 mode, the maximum data rates for the 203R AP are 433Mbps in the 5GHz band and 200Mbps in the 2.4GHz band.
The 203R AP offers a variety of enterprise-class features, including role-based network access, policy-based forwarding, and Adaptive Radio Management (ARM), which gives remote workers the same high-quality Wi-Fi experience they get at corporate headquarters. When additional capacity is desired, this low-cost 203R AP can be quickly added to an existing Aruba WLAN to improve network performance.
Managed by the Aruba Mobility Controller, the 203R AP supports centralized configuration, data encryption, policy enforcement and network services. It extends corporate resources to remote locations by establishing site-to-site VPN tunnels to the data center.
With an integrated Aruba Beacon, the 203R AP simplifies the remote management of a large scale network of battery- powered BLE Aruba Beacons and provides advanced location and indoor wayfinding, and proximity-based push notification capabilities.
For large installations across multiple sites, the Aruba Activate service significantly reduces deployment time by automating device provisioning, firmware upgrades, and inventory management. With Aruba Activate, APs can configure themselves when powered up, slashing the cost and time to deploy wireless in remote branches and home offices.
CHOOSE YOUR DEPLOYMENT AND OPERATING MODES
Aruba APs offer a choice of deployment and operating modes to meet your unique management and deployment requirements:
The 203R AP is the unified AP that supports both controller-based and controllerless deployment modes, providing maximum flexibility
Controller-based mode – When deployed in conjunction with an Aruba Mobility Controller, Aruba APs offer centralized configuration, data encryption, policy enforcement and network services, as well as distributed and centralized traffic forwarding.
Controllerless (Instant) mode – The controller function is virtualized in a cluster of APs in Instant mode. As the network grows and/or requirements change, Instant deployments can easily migrate to controller- based mode.
Remote AP (RAP) mode for branch deployments
Air monitor (AM) for wireless IDS, rogue detection and containment
Secure enterprise mesh portal or point
Pricing Notes:
Pricing and product availability subject to change without notice.
Aruba Networks Products
Aruba Wireless Access Point
Aruba AP-203R (US) Flex-radio 802.11ac 2x2 Unified Remote AP with Internal Antennas
#JY714A
List Price:
$364.00
Our Price: $263.13
Aruba AP-203R (US) FIPS/TAA Flex-radio 802.11ac 2x2 Unified Remote AP with Internal Antennas
#JY715A
List Price:
$488.00
Our Price: $350.83
HPE Aruba Foundation Care Next business day Exchange
Aruba 1 Year Foundation Care Next business day Exchange AP-203R
Aruba 3 Year Foundation Care Next business day Exchange AP-203R
Aruba 4 Year Foundation Care Next business day Exchange AP-203R
Aruba 5 Year Foundation Care Next business day Exchange AP-203R
#H6PY3E
List Price:
$67.00
Our Price: $65.17
HPE Aruba Foundation Care 4-Hour Exchange
Aruba 1 Year Foundation Care 4-Hour Exchange AP-203R
Aruba 3 Year Foundation Care 4-Hour Exchange AP-203R
Aruba 4 Year Foundation Care 4-Hour Exchange AP-203R
Aruba 5 Year Foundation Care 4-Hour Exchange AP-203R
#H6PY4E
Our Price: $108.00
HPE Aruba Services Renewal
Aruba 1 Year Renewal Foundation Care Next business day Exchange AP-203R
#H6PY7PE
Our Price: $17.41
Aruba 1 Year Renewal Foundation Care 4-Hour Exchange AP-203R
#H6PZ0PE
Our Price: $26.66
Other Accessories
Aruba AP-CBL-SERU Micro-USB TTL3.3V to USB2.0 AP Console Adapter Cable
#JY728A
List Price:
$32.00
Our Price: $23.00