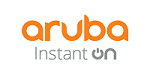 Aruba Instant On 1960 Switch Series

A scalable solution for growing businesses with heavy bandwidth requirements.

Please visit our Aruba Instant On Online Store for detailed information and to purchase Aruba Instant On's products online.
Switches simplify the deployment of wired devices like surveillance cameras and wireless access points by allowing you to connect and power network endpoints over a single Ethernet cable, without having to install separate power supplies. Because network performance is critical to small business success, you need a simple networking solution that offers blazing fast, secure connections at a price that won't break the bank.
The Aruba Instant On 1960 Switch Series empowers you to do more. Affordable and easy-to-deploy, these smart-managed, stackable Gigabit switches with 10-gigabit connectivity deliver maximum throughput in small business networks for demanding tasks such as data storage, video on-demand and high-bandwidth processing. Stacking and advanced switching features protect your IT investment by ensuring your network is ready for the next generation of applications and devices.
Perfect for:




---
Aruba Instant On Warranty and Support Services
Aruba Instant On comes with a 2 year* warranty for access points and a limited lifetime warranty for the 1930 switches.
* WARRANTY & SUPPORT: Aruba Instant On 2-year warranty includes 24X7 phone support for the first 90 days and chat support for the entire warranty period. Community support is for as long as you own the products.
More info — Warranty & Support Services Datasheet
Foundation Care Solution Brief
Explore Wi-Fi Solutions
Aruba Instant On 1960 Switches
Key Features
The Aruba Instant On 1960 has the features you want for high-density environments
High-performance 10 gig connectivity
For environments with heavy bandwidth needs, 10GBase-T and SFP+ uplink ports deliver lightning-fast network speeds and eliminate traffic bottlenecks. 24 and 48-port Gigabit (PoE and non-PoE) models provide options for both flexible and affordable deployment.
Stack up to four (4) 1960 switches
Simplify network management by stacking up to (four) 4 1960 (access and aggregation) switches and managing them through one single IP address. You get up to 288 ports, including 16 10G uplink ports, for high-density environments, as well as flexibility for future network expansion.
Easy to use cloud-managed stacking
In a few simple steps, set up and configure a stack with the Aruba Instant On mobile app. You can manage the stack and ports remotely, and you'll minimize network downtime - if the master switch within 1960 Series stack fails, another switch takes over, keeping your network up and running.
Future-proof your network
Advanced switching capabilities like Layer 3 IPv4, IPV6 static routing, ACLs, and Spanning Tree Protocols support apps and devices you have today, as well as those you may add in the future. And True Stacking makes it easy to configure, manage, and troubleshoot physical switches as one single entity, helping scale the network as your business grows.
PoE Over Ethernet (PoE) support
The 1960 switches support Class 4 and Class 6 PoE on selected ports. Up to 30 W PoE power delivery is available for Class 4 PoE devices like access points, surveillance cameras and VoIP phones, and up to 60 W PoE power delivery is available for Class 6 PoE devices like pan-tilt zoom cameras and video enabled IP-phones.
Robust security
Protect your business data and keep unauthorized users off the network with advanced security features like IEEE 802.1X, MAC authentication, VLANs, Network Access Control (ACL), Port Security, DHCP snooping, ARP attack prevention and RADIUS authentication.
Plus:

LIMITED LIFETIME WARRANTY

24/7 PHONE AND CHAT SUPPORT