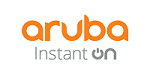 Aruba Instant On 1430 Switch Series

Unmanaged Ethernet switches for simple connectivity.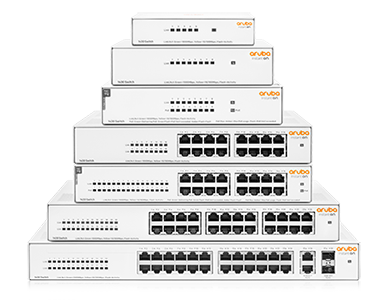 The Aruba Instant On 1430 Switch Series is a plug-and-play unmanaged switch series for small businesses looking for simple, reliable, and low-cost network connectivity. These easy-to-use switches deliver Layer 2 Gigabit Ethernet switching capabilities—at an affordable price point—to help connect and share common resources like printers and access points, without any complicated network configuration. With plug-and-play operation, fully automated functions, zero ongoing maintenance, and Power over Ethernet (PoE) models, these switches deliver simple, reliable connectivity for the smallest SMBs and home offices.
Aruba Instant On 1430 Switches
Switches simplify the deployment of wired devices like surveillance cameras and wireless access points by allowing you to connect and power network endpoints over a single Ethernet cable, without having to install separate power supplies. Because network performance is critical to small business success, you need a simple networking solution that offers blazing fast, secure connections at a price that won't break the bank.
The Aruba Instant On 1430 switches are easy-to-use unmanaged Gigabit Ethernet switches ideal for small businesses and home offices looking for simple, reliable connectivity that's configuration-free.
Download Aruba 1430 Switch Series Datasheet (.PDF)
Perfect for:



---
Aruba Instant On Warranty and Support Services
Aruba Instant On comes with a 2 year* warranty for access points and a limited lifetime warranty for the 1930 switches.
* WARRANTY & SUPPORT: Aruba Instant On 2-year warranty includes 24X7 phone support for the first 90 days and chat support for the entire warranty period. Community support is for as long as you own the products.
More info — Warranty & Support Services Datasheet
Foundation Care Solution Brief
Explore Wi-Fi Solutions
Key Features
Aruba Instant On 1430 Switch Series is ready right out of the box
Fast wired performance
Connect devices quickly with these unmanaged Layer 2 Gigabit Ethernet switches that range in size from 5-port to 26-port models, with and without PoE, so can you install just what you need. Span longer distances to devices with SFP fiber uplinks on the 26-port model.
Plug and play simplicity
Unmanaged means this series requires zero configuration and no maintenance – it comes with fully automated functions like Quality of Service (QoS) that prioritizes time-sensitive voice and video data for a better user experience.
Quiet and energy efficient
All models are fan-less for silent operation and support Energy Efficient Ethernet (IEEE 802.3az) to save energy by using less power during idle times without compromising performance.
Power over Ethernet (PoE)
Quickly connect and power access points, surveillance cameras, and other IoT devices with 8-port and 16-port Class 4 PoE models that eliminate need for power outlets in hard-to-reach places.
Affordable reliability
You can depend on these cost-effective entry level switches from HPE Aruba that include limited lifetime warranty with 24x7 chat./p>
Plus:

LIMITED LIFETIME WARRANTY

24/7 PHONE AND CHAT SUPPORT